To draw water out of an atmospheric storage tank, you will need a water booster pump to move the water out of the tank and throughout the facility. Since the water in these tanks does not have any pressure exerted upon it, you will need the assistance of a pump or gravity to move water out of the tank and through your pipes.
UV-stabilized atmospheric tanks are commonly used in outdoor applications, like RO water collection, and for water supply purposes.
They can also be used for water distribution, transporting RO water, or treated water storage. Stainless steel panel tanks tend to be much larger than pressure tanks, holding thousands of liters at a time.
Why to install SS tanks for RO water ?
Beltecno is a pioneer company in manufacturing stainless steel panel tanks and understands the concept of the 4th Industrial revolution very well, thus we designed our tanks according to the customer demand and by keeping the future also in our mind.
We have maintained the durability by reducing the weight of panels, our stainless steel panels are lighter if compared with carbon steel, Iron, and RCC.
Also, it makes them durable for the long run as well as the highest in strength. It's also possible to use these tanks on soft ground to avoid expensive structures if required.

Process RO water Tanks
The thin panels are high in strength, which makes it very easy for the end customers to install them with ease and fewer resources. Also, it's a very big advantage to avoid uneasy structure costs on the other hand. However, RCC tanks take a long period of time to install, extra resources as well as heavy foundation and structure.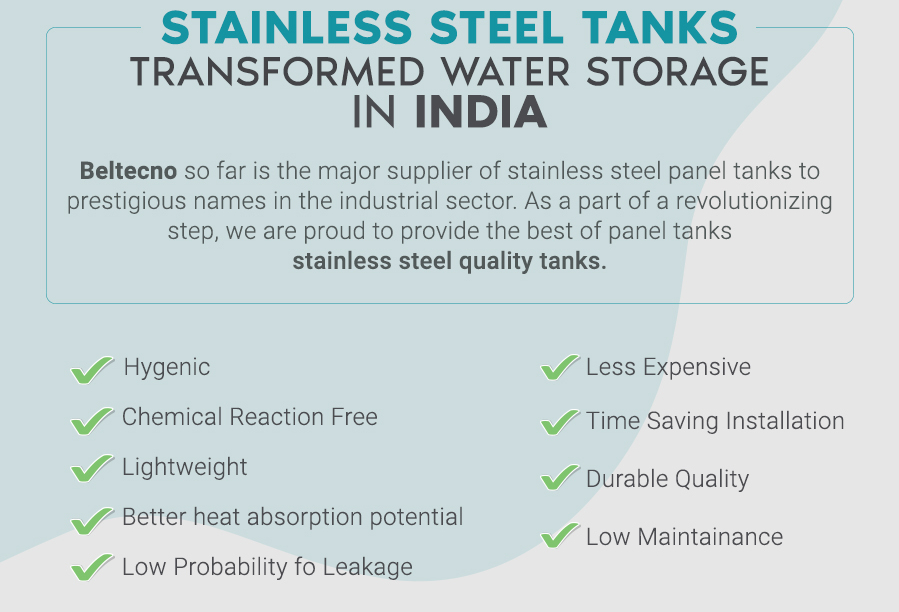 Panel tanks on the other side are almost 1/30th times lighter to store the same volume of water.
Beltecno is among the top 10 fire water tank manufacturers in India and supports many pharmaceutical businesses to upscale their production units by increasing their total water hold capacity.


For more information regarding our stainless steel panel tanks download our product brochure by clicking the button below, drop us your requirement on sales@beltecnoindia.com or call us on any of the given numbers +91 9116009580/+91 7300084028