Our Delighted Customer for SS Panel Tanks - Hyundai in Gurgaon, Haryana
---
Beltecno's Stainless Steel Panel Tanks manufactured S16KL for Hyundai Motors India Pvt. Ltd. Gurgaon, Haryana, India
Concern Person's Name: Mr. Kwon Won Taik
Associated Industry: Hyundai Motors India
Designation: Chief Mechanical Manager
Tank Installation Location: Hyundai Motor India in Gurgaon, Haryana
Tank Specification: Stainless Steel Panel Tank 16KL Stainless steel panel water tank for RO water storage

Fig: 16KL Stainless steel panel water tank for RO water storage in Hyundai Motor India in Gurgaon
Hyundai Motors India Limited, located in Gurgaon, Haryana, is a subsidiary of Hyundai Motor Company, one of the world's leading automobile manufacturers. Established in 1996, Hyundai Motors India has become a prominent player in the Indian automotive industry.
The company's manufacturing facility in Gurgaon is known for producing a wide range of Hyundai vehicles, including popular models like the Hyundai Creta, Hyundai Venue, Hyundai i20, and Hyundai Grand i10, among others. Hyundai Motors India is renowned for its commitment to quality, innovation, and customer satisfaction, making it a significant contributor to India's automotive sector.
It is our immense pleasure to supply the stainless steel panel tank to such a renounced company in the world. The enquiry was generated from Mr. Changgil Kim, a contractor from Hyeopseong Eng Pvt. Ltd. company on behalf of Hyundai for a stainless steel water storage tank solution. After understanding the need from them we proposed the 16KL for the RO water storage tank.
We got an opportunity to get valuable feedback from Mr. Kwon Won Taik, Chief Mechanical Manager at Hyundai.
Q1: How did you get to know about Beltecno and what was the main reason for choosing SS panel tanks?
First, we searched with the keywords "all tank lines in all India" on the internet.
So, Beltecno came up on the list of tank manufacturers, saw the stainless-steel panel tank picture on got interest in the product. Then we checked the product and pictures on the site and we thought they looked great. We had seen and used such tanks in Korea, so we enquired to Beltecno. It took about a year from enquiry to procurement. We wanted to know more about the product and manufacturing process so our Hyundai Engineering team and construction team went to visit the Beltecno Neemrana factory and were convinced with the overall process.
Q2: Are you satisfied with the tank's performance? How much would you rate us on a scale of 10, in terms of quality, delivery, and support?
We are very much satisfied. Among 4 no's of multiple water tank sizes, we are now using 16 tons RO water tank only, and we are already happy with that. We would like to give 10 out of 10.
Q3: What is the exact application of the tanks in Hyundai Motor India Pvt. Ltd.? Do you recommend other customers also use panel tanks to serve this particular requirement?
We required these water tanks for the storage of soft, domestic, and RO water. Yes, we will definitely recommend this to others.
Q4: Do you have a scheduled maintenance plan for water storage tanks?
Yes, we intend to maintain it regularly.
Q5: Based on your awareness of SS water tanks, what do you think about how we are different from others and Beltecno's future in India?
Quality and time management was very good. We think Beltecno has a bright future in India because of its excellent quality and time management.
Q6: Do You have any future plans to procure our tanks in any of your upcoming projects?
Yes, we are planning to use these stainless steel panel water tanks in our several factories in the future. In our new EV cars manufacturing unit we are revamping the setup and we may need multiple water storage tanks.
Q7: Based on your past experience, what were the major challenges you faced?
Unloading of tanks was the main problem.
Q8: How did you install the tank?
First, we shifted the water tank on the pod in our factory. Then, we installed it with manual manpower.
Q9: Your valuable input is very important to us. So, do you think we could do something better in terms of product development, or other add-on services?
We want you to make all sorts of panel water tank shapes. In addition, it would be better to have different manhole shapes and opening type options for our selection.
Q10: If you would like to share any additional comments or experiences about our product, Delivery, or any other services Please enter them below.
Nothing in particular.
Q11: What was the reaction/feedback from your customer i.e. Hyundai Motor India Pvt. Ltd after seeing the Beltecno Panel Tank?
Excellent quality, good coordination, and punctual in the delivery schedule.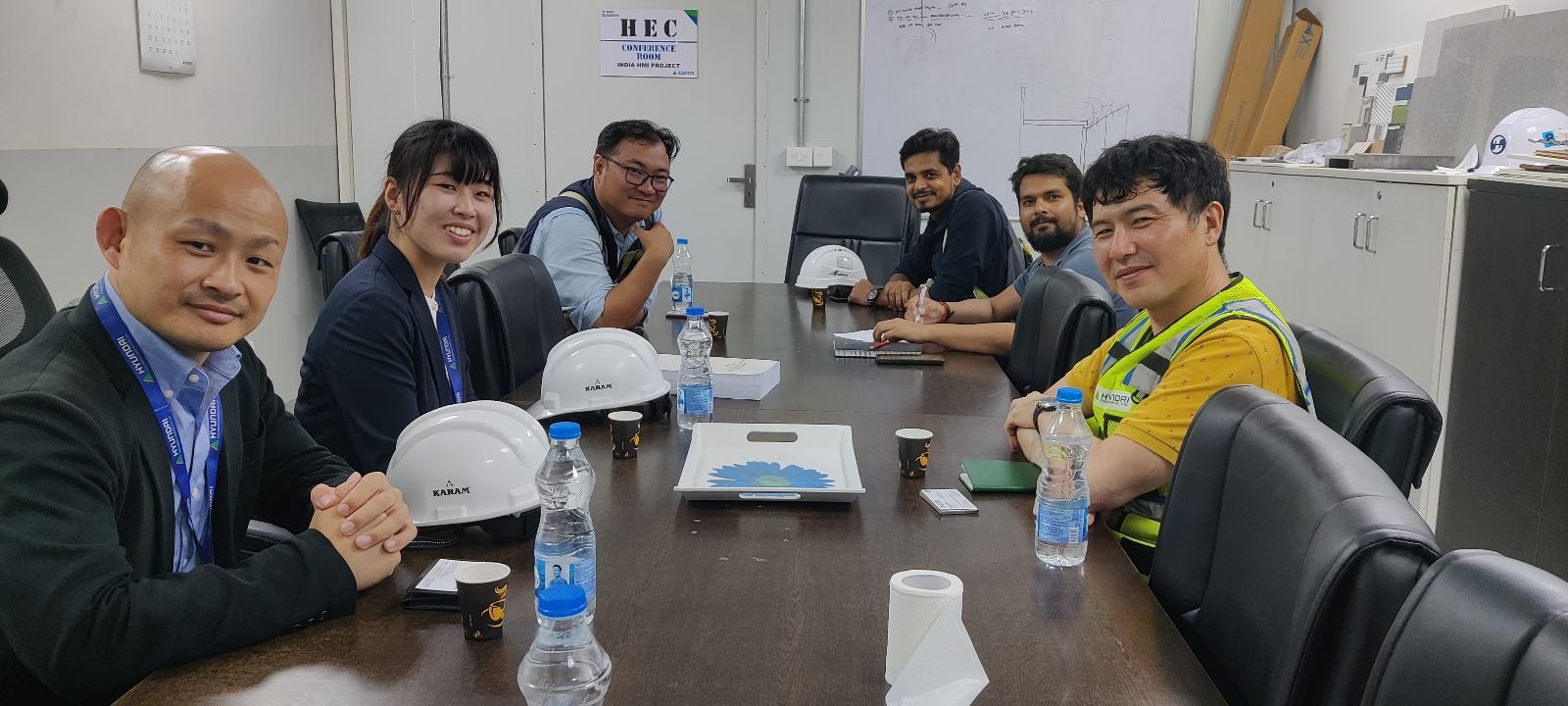 Interaction with HEC and Hyeopseong Engineering
We would like to thank Mr. Kwon Won Taik for sharing his valuable feedback from his busy schedule. The overall discussion was very good. Their team members were very happy/delighted with the stainless steel panel water storage tank supplied.
Beltecno provides customizable super lightweight industrial stainless steel water tanks throughout India.

Want to get a free quotation for the water storage tank?
Contact us for more information.