Stainless Steel Water Tanks
BUILT WITH SUSTAINABLE JAPANESE TECHNOLOGY
70+ years of proven excellence in Stainless Steel Panel Tanks, Stainless Storage Tanks, & Plate Heat Exchangers
BELTECNO, Stainless Steel Industrial Equipment Manufacturers
We are one of the world's most advanced manufacturers of stainless steel industrial equipment. Since 1947, we've approached every project with the understanding that the quality of our products enhances the integrity of yours.

Our symbolic diamond shape structure, decades of R&D, and state-of-the-art Japanese technology enable us to provide our customers unmatched lifetime value on every dollar they invest in our products.





Make in INDIA
Watch Our Manufacturing Unit in India
Benefits of Stainless Steel Water Tanks
What makes Beltecno Different?
Japanese Technology

Super Lightweight

Customized

Economic
Japanese Technology for High-Quality Stainless Steel Water Tanks.
We use advanced Japanese technology in the manufacturing of our stainless steel water tanks. It ensures the highest quality and reliability of our products. Our tanks are made with precision and attention to detail. Using the latest manufacturing techniques, we ensure durability, efficiency, and sustainability. With our cutting-edge Japanese technology, we are able to produce stainless steel water tanks that are resistant to corrosion and rust. It has a long lifespan and requires little maintenance. Choose our tanks for a dependable and efficient solution to your water storage needs.
Lightest in the Segment! Lower the structural loads, Longer the life.
Our stainless steel water tanks feature a lightweight design. It is the lightest in its segment, reducing the structural loads on your building. It also ensures a longer lifespan for both the tank and your property. Made with high-grade stainless steel material, they are resistant to corrosion and rust. It requires minimal maintenance over the years. With their versatility and sustainability, our tanks provide a reliable, long-term solution for all your water storage needs.
Custom Water Storage Tanks as per the Need.
Our stainless steel water tanks offer customized water storage solutions. It is designed for industrial applications. You can get customized sizes, shapes, capacities, and fittings. We ensure that they meet the unique needs of your industrial facility. Made with high-grade stainless steel material, our tanks are resistant to corrosion and rust. It is a reliable and long-lasting solution for your industrial water storage needs. You can ensure the efficiency and sustainability of your industrial processes. Choose stainless steel water storage tanks.
Stainless Steel Panel Tanks are very economic in long run.
Being a Japanese company, we understand the importance of quality. Various in-house tests and almost 75+ years of experience in manufacturing stainless steel water tanks make us different from other water tank manufacturers in India. If you are considering industrial water tanks, stainless steel panel tanks are a highly recommended choice. It will enhance the environment, be the most sustainable option, and be very cost-effective due to its design and R&D.
Get to know about us
Our Expertise
Customizable & Super Lightweight
Stainless Steel Panel Tanks
The ideal solution for all your water storage needs. Our tanks are a cost-effective investment to set the foundation for your team's success.
---
Hygienic Water Storage Solutions
Stainless Steel Storage Tanks
Keep your water supply safe and secure with our hygienic water storage solutions, featuring our durable stainless steel storage tanks.
---
PHE-SS Corrugated Metal Plates
SS Plate Heat Exchangers
Maximize your heat transfer efficiency with our high-quality stainless steel plate heat exchangers. Designed to meet your specific needs.
---
Apart from Stainless Steel Panel Tanks, Storage Tanks, and Plate Heat Exchangers, we also manufacture AC parts (sheet metals) for custom requirements, please get in touch.
Stainless Steel Tank manufacturers in India
Main Features of our Stainless Steel Water Tank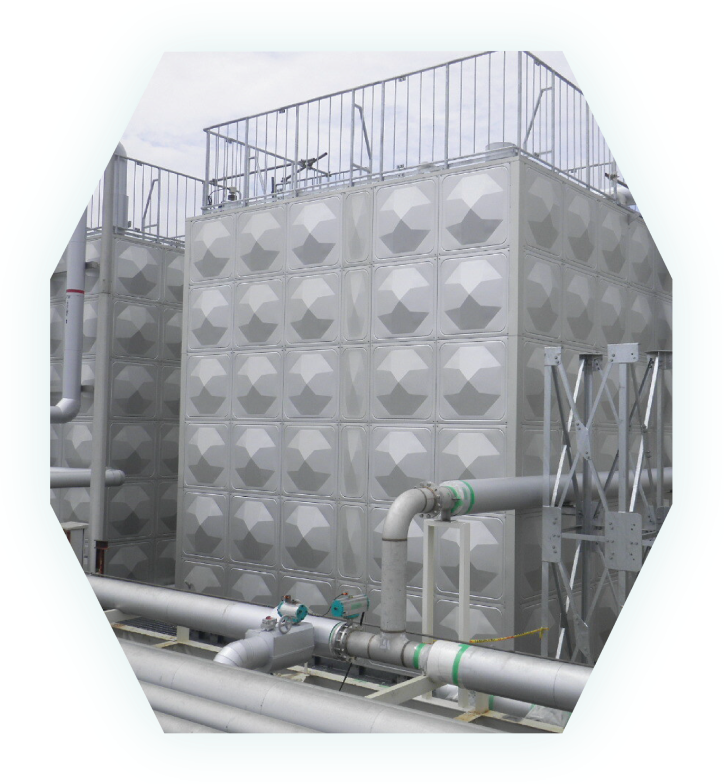 A Life Time Investment
Built to Last a lifetime

Minimal Maintenance

Less risk of biomass formation
Durable
Minimum repair costs

Save you money
Quick Installation
Super Lightweight

Quick Install immediately after contruction

Zero Delay in Operations
Quality Maintenance
Superior insulation

Stainless steel's excellent thermal properties

High-quality water storage tank
Heat Retention
Top-quality insulation for hot and cold weather conditions

Temperature Maintenance
Sustainable
100% recyclable stainless steel

Eco-friendly choice for storing water

No frequent replacement needed
Economic in Long Run
cost-effective choice for the long run

lower maintenance costs.
Hygienic
Non-reactive material

Ensures clean and safe water storage
A Lifetime Investment
Our stainless steel tanks are built to last a lifetime and need minimal maintenance. Thanks to the unique properties of stainless steel, there's little risk of biomass formation or other issues.
Quick Installation
Get your water storage solution up and running in record time with Beltecno! Our stainless steel tanks are designed for quick and easy installation, so you can rely on water storage without delay.
Heat Retention
Experience unbeatable heat retention with Beltecno's stainless steel tanks! Our tanks boast top-quality insulation that keeps your water hot and ready for use, even in the coldest weather.
Economic in Long Run
Invest in your future with Beltecno's stainless steel tanks! Our tanks are a cost-effective choice for the long run, with lower maintenance costs. By buying SS tanks, you're making a solid investment.
Hygienic
Our Stainless Steel Water Storage Tanks are hygienic. With a sleek design and durable construction, our stainless steel water storage tanks are the perfect choice for ensuring clean and safe water storage.
Sustainable
Made from 100% recyclable stainless steel, our tanks are an eco-friendly choice for storing water. Our tanks promote sustainability by reducing the need for replacements, making them a responsible choice for the environment.
Quality Maintenance
Designed to keep your water at the perfect temperature for a long time. With superior insulation and stainless steel's excellent thermal properties, our tanks ensure your water stays hot or cold as desired, providing efficiency.
Durable
Invest in quality and durability with our stainless steel tanks, built to last for years. With minimal maintenance and repair costs, our tanks offer long-term economic benefits, saving you money in the long run while providing reliable water storage solutions.

PROBLEM
The Biggest problem of Industries is the unwanted breakdown, Maintenance of old water tanks, and Installation time of new water tanks.
SOLUTION
Stainless Steel Water Tanks made by Beltecno are highly Durable, Require low Maintenance and take 1/3 time of installation compared to Concrete tanks.
IMPACT
By Installing Stainless Steel Panel Tanks, Productivity is enhanced, Infrastructure is Strong, and Overall Quality standards are met.
"Very different from other manufacturers. The tank is light, easy to install, nice design. Beltecno has a great future and scope in Pharma and Food & Beverages sector which is a very huge market in India."
"However, we had so many discussions on the panel tank with the client, and they were so much interested in this product due to its technology and aesthetics, but after seeing it on-site they appreciated the whole team"
"Excellent in quality, aesthetic design, good coordination and support from the Beltecno team and punctual in delivery schedule. Our search for good quality water storage tank is fulfilled by Beltecno"
What is the durability of the panel tanks?
Stainless Steel Panel Tanks are usually a lifetime investment and there are minimal chances of
biomass formation because of the properties of Stainless steel. These large stainless steel tanks have
a lifetime value to buyers.
How does this tank be better than plastic and concrete?
Panel tanks are hygienic as they are made of food-grade stainless steel grades SS304 and SS316L which helps to preserve water in its natural form, unlike plastic tanks.
Lightweight: 1/30 the weight of concrete.
Fast Installation: 1/3 the time of Concrete Construction.
Economic: Life Cycle Cost is less than a Concrete Tank.
Will there be any leakage in the tank in the future?
The probability of leakage is very low in stainless steel panel tanks as they are fully welded and properly tested.
How do I clean the tank?
The maintenance of stainless steel tanks is much cheaper, we provide inside and outside ladders to get into the tank and clean it.
What is the process for Buying Stainless Steel Panel Tank?
For quotaion, there are certain basic specifications are required from customer's side.
1) Total Volume required
2) Which Stainless Steel Grade is required (SS 304 L or SS 316 L)
3) What Type of water to be stored in the tank.
*We recommend RO/Treated/ Corporation Water/ Process Water to store in Stainless Steel Tanks.
How the panels are joint togeater ?
Stainless Steel Panel Tanks are made of Stainless Steel Panels (1 mtr. x 1 mtr.) using Tig welding by our certified expert welders.
Get notified of new blog updates.
Be the first to know what new going on in the water industry, we regularly post useful updates on the Industry as well as product information. Enter your email Id and hit the subscribe button to be a part of this change from traditional water storage to Stainless steel water storage solution.