Connecting Water to Life!
Why Beltecno's Stainless Steel Water Tanks?
Since 1947, we are manufacturing stainless steel building equipment. Especially in stainless steel water tanks (Panel tanks and storage tanks) by means of the TIG welding process, we are the market leader in Japan.
Our excellent quality & technology along with our experience and decades of R&D makes us different from other players in the field of SS tanks. After getting huge success in Japan we came up globally and offered the same products.
Our Stainless steel tanks add value because of their custom design i.e. capacity, internal partition along with insulation for hot & cold water storage, super lightweight with advanced Japanese technology, and so on.
The beautiful diamond shape on our panels provides structural strength to the whole tank and helps in creating a uniformly distributed load. This protrusion allows using a thinner sheet which makes it lightweight and economic in many aspects.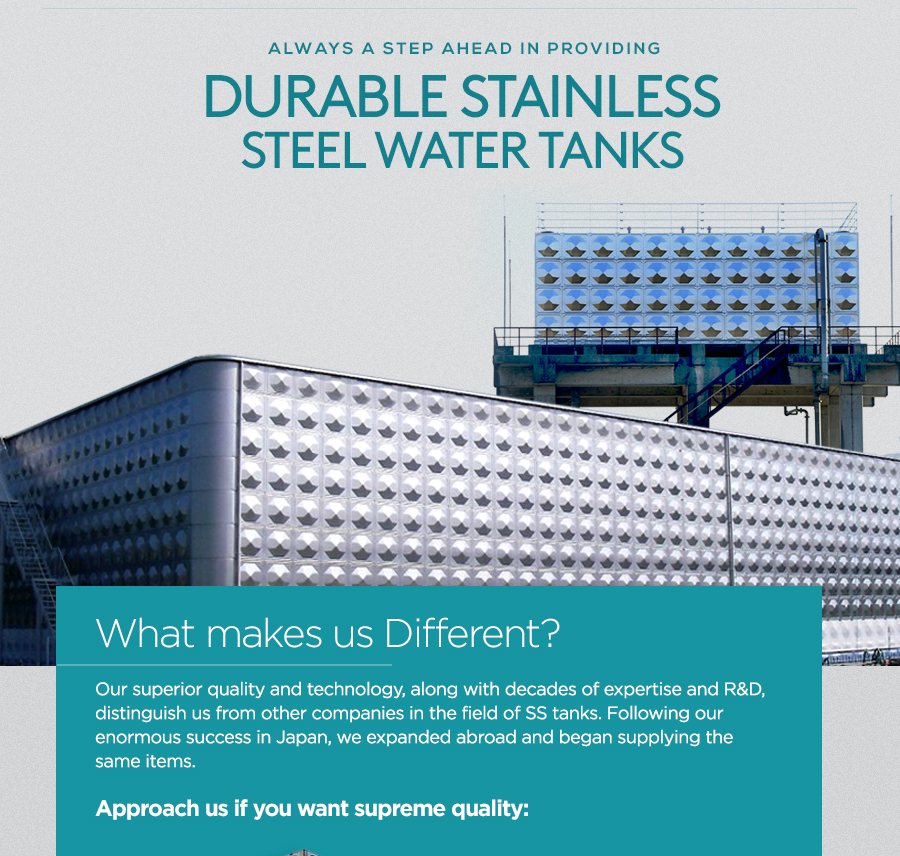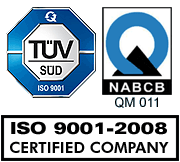 Best Fabrication Award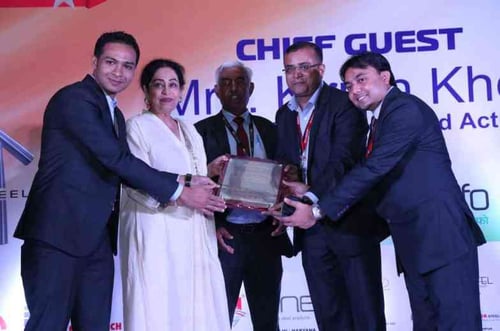 BELTECNO's Stainless Steel Panel Tank received the BEST FABRICATION PRODUCT award at the INDIA STAINLESS STEEL PIPE EXPO in 2016.
Top 10 Water Tanks Manufacturers in India

Received the prestigious recognition of being Top 10 Water Tanks Manufacturers of India by Industry Outlook in 2021.
Watch our corporate video
Benefits of Stainless Steel Water Tanks
What makes Beltecno Different?
Japanese Technology

Light Weight

Customized

Economic
Customized Water Storage Solution for Industrial Application.
Beltecno, being the best Stainless Steel Tank manufacturer in India provides high-quality tanks for water supply in various industrial applications. We are a prominent name in Japan and operating since 1947.
Lightest in the segment! lower the structural loads, Longer the life.
Stainless Steel's high material strength allows for thinner construction. This makes it very lightweight, approximately 1/30 the weight of concrete. This is a great advantage when installing a tank on the soft ground since unnecessary foundation costs can be eliminated.
Custom Water Tanks as per the Need.
Being a prominent SS water tank manufacturer, we assure you that choosing a tank made of stainless steel using the TIG welding process will be hygienic and very easy to customize according to the end user's requirements.
Stainless steel water tanks hold the property to keep water in its natural form. In so many Industrial applications it's essential to supply water in its purest form. For Engineering companies, it is a big challenge to accommodate water tanks in the given building layout and above that to supply the required volume of water at the same time. To overcome this challenge Stainless Steel Panel tanks are the best choice which come with highly customized features to meet all the site requirements in the minimum time of installation.
Stainless Steel Panel Tanks are very economic in long run.
Being a Japanese Company, we understand the importance of quality. Various in-house testings and almost 75+ years of Stainless Steel Water Tanks manufacturing experience make us different than other water tank manufacturers in India. If you are considering Industrial water tanks, Stainless Steel Panel Tanks are a highly recommended choice that will enhance the environment and best sustainable option along with being very cost-effective due to their design and R&D.
Stainless Steel Tank manufacturers in India
Main Features of our Stainless Steel Water Tank
A Lifetime Investment
Water storage stainless steel tanks are usually a lifetime investment and there are minimal chances of biomass formation because of the properties of Stainless steel. These large stainless steel tanks and water storage stainless steel tanks provide a lifetime value to buyers.
Quick Installation
Beltecno is one of the top manufacturers of Stainless steel panel tanks. Beltecno offers a range of products such as hot water tanks, Insulated type stainless steel panel tanks. We are the global leaders in Stainless Steel Water Tanks which are very easy and ready to install in less time compared to other options.
Heat Retention
Beltecno SS tanks have high heat retention. Insulation helps in heat retention. Beltecno tanks provide great heat retention and that is one reason it's been considered to be the best stainless steel panel tank and awarded with the best fabrication product award at the India Stainless steel pipe expo in 2016.
Economic in Long Run
When comparing total life cycle costs including maintenance, it is clear stainless steel is more cost-effective in the long run. Buying a stainless steel tank is like adding a solid asset for your future that will not depreciate but due to high inflation rates and the increasing price of steel, It may give a good return on investments.
TESTIMONIALS
What our customers say
"Very different from other manufacturers. The tank is light, easy to install, nice design. Beltecno has a great future and scope in Pharma and Food & Beverages sector which is a very huge market in India."
"However, we had so many discussions on the panel tank with the client, and they were so much interested in this product due to its technology and aesthetics, but after seeing it on-site they appreciated the whole team"
"I personally recommend, Stainless steel water tank over other options available for storage of RO Water as it maintains the hygiene and overall performance, in case of Beltecno, tank quality is no doubt, one of the best in the segment."

PROBLEM
The Biggest problem of Industries is the unwanted breakdown, Maintenance of old water tanks, and Installation time of new water tanks.
SOLUTION
Stainless Steel Water Tanks made by Beltecno are highly Durable, Require low Maintenance and take 1/3 time of installation compared to Concrete tanks.
IMPACT
By Installing Stainless Steel Panel Tanks, Productivity is enhanced, Infrastructure is Strong, and Overall Quality standards are met.
2008 to 2010
BELTECNO Headquarter was moved to Nagoya,Japan.Incorporated BELTECNO India Private Limited.Neemrana plant was constructed in Rajasthan.
2006
BELTECNO Co., Ltd. merged with Kyushu BELTECNO Co., Ltd. and Aomori BELTECNO Co., Ltd. to incorporate BELTECNO Plant Industry Co., Ltd.
1998 to 1999
International Quality Management System ISO9001 was certified to BELTECNO Headquarter, Nagoya branch, and the Manufacturing Department. Incorporated BELTECNO Giken East Co., Ltd. for manufacturing Stainless-Steel Reservoir.
1994
Incorporated BELTECNO Giken Co., Ltd, for manufacturing Stainless-Steel Reservoir as BELTECNO made a full-scale entry into the water supply business.
1993
Developed and marketed Thermal Color Stainless-Steel Tanks.
1991
Developed and marketed Plate Heat Exchanger. Aomori plant was constructed with an expansion of Stainless-Steel Panel Tank operation.
1990
Incorporated BELTECNO Co. Ltd.
1985
Developed and marketed Fully-Automatic Cheese Dehydrators.
1982
Developed and marketed Stainless-Steel Closed Expansion Tanks. Gifu plant was constructed with an expansion of Stainless-Steel Panel Tank operation.
1980
Developed and marketed a wide variety of Short-Liquor Dyeing Machines.
1978
Develop Stainless-Steel (SUS 304) Heat Storage Tank. Develop and market Stainless-Steel (SUS 304) Storage Tank(Hot Water Tanks).
1968
Developed and marketed Stainless-Steel Panel Tanks.
1957
Incorporated Suzuki Mfg. Co., Ltd. with a capital of 300 million yen.
1947
Founded Suzuki-Shoten for manufacturing Dyeing Machines.
What is the durability of the panel tanks?
Stainless Steel Panel Tanks are usually a lifetime investment and there are minimal chances of
biomass formation because of the properties of Stainless steel. These large stainless steel tanks have
a lifetime value to buyers.
How does this tank be better than plastic and concrete?
Panel tanks are hygienic as they are made of food-grade stainless steel grades SS304 and SS316L which helps to preserve water in its natural form, unlike plastic tanks.
Lightweight: 1/30 the weight of concrete.
Fast Installation: 1/3 the time of Concrete Construction.
Economic: Life Cycle Cost is less than a Concrete Tank.
Will there be any leakage in the tank in the future?
The probability of leakage is very low in stainless steel panel tanks as they are fully welded and properly tested.
How do I clean the tank?
The maintenance of stainless steel tanks is much cheaper, we provide inside and outside ladders to get into the tank and clean it.
What is the process for Buying Stainless Steel Panel Tank?
For quotaion, there are certain basic specifications are required from customer's side.
1) Total Volume required
2) Which Stainless Steel Grade is required (SS 304 L or SS 316 L)
3) What Type of water to be stored in the tank.
*We recommend RO/Treated/ Corporation Water/ Process Water to store in Stainless Steel Tanks.
How the panels are joint togeater ?
Stainless Steel Panel Tanks are made of Stainless Steel Panels (1 mtr. x 1 mtr.) using Tig welding by our certified expert welders.
Get notified of new blog updates.
Be the first to know what new going on in the water industry, we regularly post useful updates on the Industry as well as product information. Enter your email Id and hit the subscribe button to be a part of this change from traditional water storage to Stainless steel water storage solution.