Customer Name: Mr. Sanjay Kr. Tulshyan
Associated industry: Engineering Company
Designation: Managing Director
Tank Installed location: Hospital in Kathmandu, Nepal
Tank Specification: Storage Tank.

Technical Associates Services Pvt. Ltd. is one of the big engineering companies operating in Nepal. They are mainly into complete solutions for Water Treatment Systems, Waste Treatment Systems, Water Treatment accessories, Pharma water distributions system, Pumping Solutions, Compressed Air Systems and Medical Gas Pipeline Systems etc.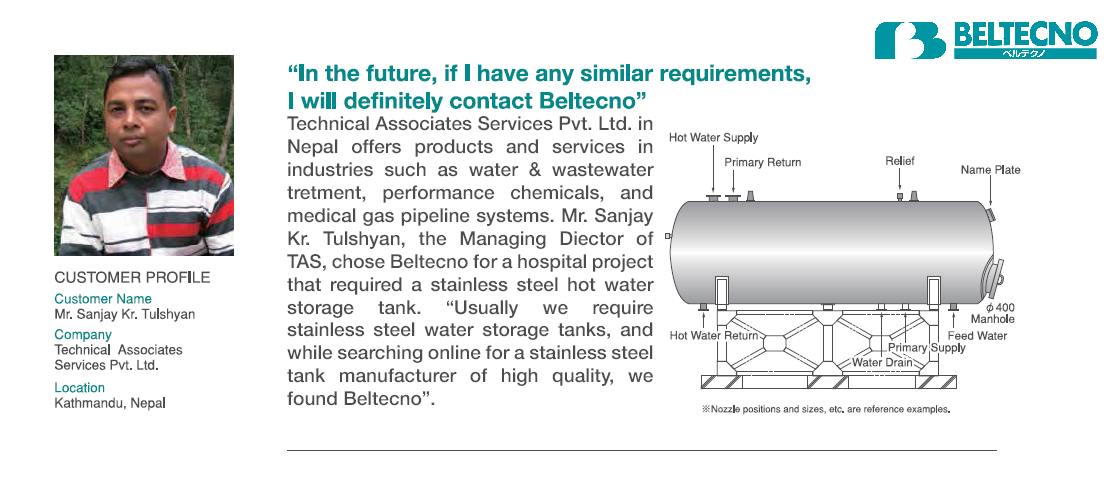 Q&A with TAS, Nepal.
Q1- How did you know about Beltecno India and its products?
A- Usually we have requirement of stainless steel water storage tank and while searching for the stainless steel tank manufacturer of high quality and found Beltecno a Japanese company in internet.
Q2- How was your experience with the Beltecno product, what you like the most?
A- It was very good experience with Beltecno products, definitely liked very much specially finishing part was very good as well welding parts too. In future, if I have any requirement definitely will contact Beltecno.
Q3- Base on your experience with products, would you recommend our product to friend/other people?
A- Definitely will recommend Beltecno products.
Q4- Where did your installed the tank and what was the storage purpose?
A-Tank was installed in reputed hospital in Kathmandu, Nepal, the storage purpose of tank was for hot water through heat pump. The tank has not been installed till date, after installation I will send the picture (Due privacy purpose could not mention the hospital name).
Q5- How satisfy are you with the timeline of the order delivery?
A- Okay with the timeline of the order delivery but would be better if early delivery.
Q6- Would like to share any comment, suggestion or experience for improvement in services?
A-Regarding products, very good but need improvement in drawing part. Requested to submit detail drawing so that can convince the customer easily.
we are growing on a rapid pace and spreading the value of safe drinking water through our campaigns.
For more information regarding our stainless steel panel tanks download our product brochure by clicking the button below, drop us your requirement on sales@beltecnoindia.com or call us on any of given numbers +91 9116009580/+91 7300084028