Growth in Stainless steel market
The global stainless steel market size is expected to reach USD 133.8 billion by 2025 at a 5.2% CAGR (compound average growth rate), according to a new report by the Grand View Research, Inc. The market is anticipated to expand mainly due to advantages such as increased formability, weld ability, corrosion resistance and aesthetic appearance. Thereafter, increasing focus on extended life and aesthetic appearance of buildings, coupled with corrosion resistance, strength, and sustainability of the product, is likely to fuel growth.
In addition to that, drinking water has been recognized as a market where there are clear opportunities to increase the use of stainless steel for the benefit of society and the environment. As a result, many stainless steel development associations from foreign countries are working closely with local partners to increase awareness of the possibilities of using stainless steel and ensuring that the necessary knowledge of good practice is available so that stainless steel will be used correctly.
After comparable study, it has been observed that the Stainless Steel Storage Tank is superior and awareness of it, is spreading in India on the basis of the following characteristics:
Light Weight design is possible

Excellence in Corrosion resistant

Easily recyclable and environmentally friendly

Economical in the long run

Heat resistant

Good strength & ductility

Shorter installation period

Aesthetic appearance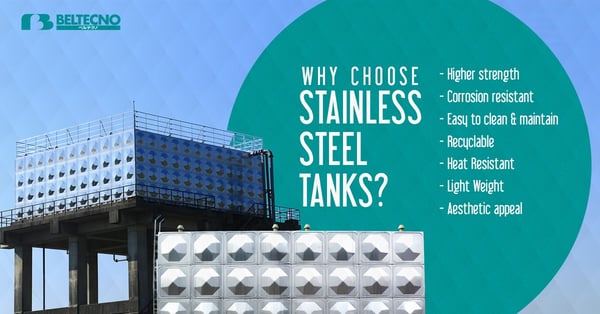 The global market is largely driven by demand from application segments such as consumer goods, building and construction, and heavy industries. Growing infrastructure investments, coupled with favourable government policies in emerging economies, are likely to fuel demand for stainless steel.
As the demand for corrosion-resistant material with high tensile strength is projected to positively affect global demand, stainless steel usage is increasingly being consumed to produce clean energy. Moreover, maintenance, long life and flawless hygiene characteristics of stainless steel also make it an ideal choice for all industries' applications.
There is no doubt that the foundations of smart cities will not be laid without stainless steel products of which Beltecno SS water storage tank is one.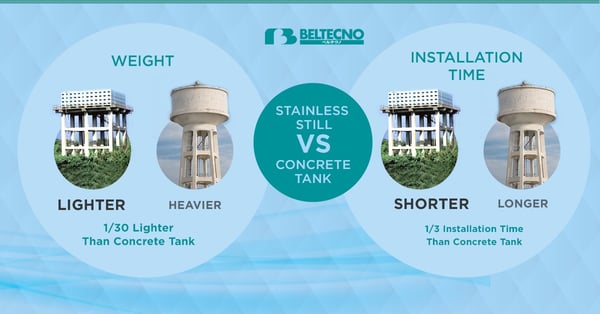 Beltecno is always committed to enhancing the development and awareness of the best water storage solutions which suit the end user in day to day life. In this regard, we are concerned always about the end user's requirements. As a result, Beltecno is exploring new innovative technologies that provide individuals with the best storage tank solutions for their use.
To Know more about Beltecno Global, click:
Download Brochure