Beltecno welcomes for " The Global Internship Program"
---
The Global Internship Program at Beltecno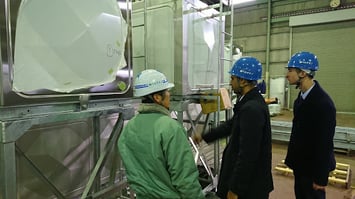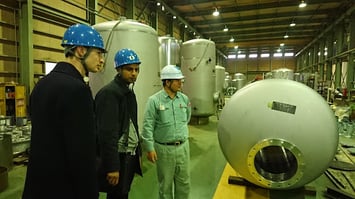 Internee's visit to Gifu-Plant and Storage Plant
Beltecno took the initiation on exploring the global culture, connecting the world and facilitating the students from the various country for their global network expansion. Sidewise, helping to develop the business relationship that can assist progress the career goals to an international level. Meanwhile, Beltecno welcomes for the global internship program to the national and international students. They can participate to boost-up their professional skills like analysis of working environment, improvement in communication and technical skill used in the real corporate world, mutual cultural exchange, new language, and acceptance of diversity.
The internee Mr. David Moore from the University of Cincinnati has joined Beltecno for this program until August 17th, 2018 for 7 months. We have conducted a small interview secession to know more about his interest in an internship at Beltecno. Here are his own views: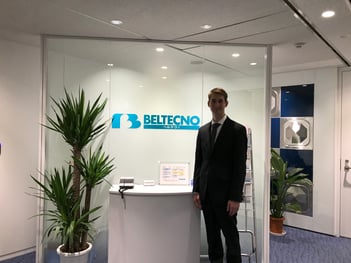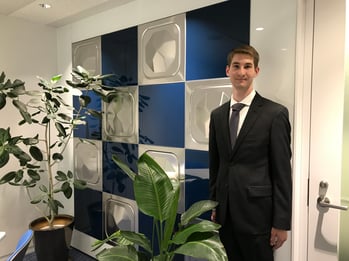 Name: David Moore
University Name: University of Cincinnati
Country: USA
Internship duration: January 15th to August 17th, 2018
1. What is your educational background?
→ I am currently a 4th-year student at the University of Cincinnati. I am studying Architectural Engineering and will graduate in the spring of 2019. My university requires five semesters of internships to be completed before graduation so this is my final internship.
2. What is the reason you came for an internship in Beltecno?
→ I studied abroad in Japan at Nanzan University for 6 weeks during the summer of 2015 and wanted to return to Japan but for a longer period of time. My university has a program that helps students find internships in other countries so when I received the opportunity to do an internship at Beltecno, I immediately wanted to do it. While my other internships have been more engineering/design focused, this one is more business focused, which is something that I've been wanting to do.
3. What do you want to learn in Beltecno as internee?
→ I did not know anything about water storage tanks before I came to Beltecno, so I want to learn as much as I can about the stainless-steel tanks, how they are built, and the benefits of using them. I also want to learn more about the business side of things and how to expand Beltecno into new global markets. Finally, I want to greatly improve my Japanese and learn more about Japanese culture & business culture.
4. So far how is your learning experience in Beltecno? How will it benefit you in your career? Do you have any experience in water tank industries?
→ I have only been at Beltecno a few weeks but I have already learned so much about the product and the business. What I'm learning now will definitely help me understand how businesses operate which will make me a more valuable employee in whatever future careers I may pursue. I do not have any experience with water tanks so this is a great learning experience.
5. Could you share the experience on your queries being responded by your mentors/trainers?
→ Since I didn't know anything about water tanks when I came here, I had tons of questions and am still asking lots of questions. Everyone here has been very willing to sit down with me and answer any questions that I have. My mentor has also taken me to see the factory where the tanks are built and to some of the completed tank sites which has been extremely helpful.
6. How did you find the working culture in Beltecno?
→ The working culture at Beltecno is definitely more formal than some of the American companies that I have worked at in the past, but everyone has been really friendly and helpful. I feel very welcomed at Beltecno.
7. Would you recommend your colleagues for Internship at Beltecno?
→ I would definitely recommend an internship at Beltecno.
8. What is your opinion on Beltecno's global reach on countries like America, Europe and so on?
→ Right now, Beltecno doesn't have any tanks in America or Europe but I think that that could change as more people realize the benefits of using stainless steel water storage tanks as opposed to other kinds of tanks.
9. Please share the water storage facilities in your home country compared to Japan.
→ Unlike Japan, welded stainless steel water tanks are very rare in America. Most water storage tanks in America are made of carbon steel with an interior coating/lining or they are made of reinforced concrete.
After the completion of internship program of Mr. David Moore, we will again take the brief post- interview to know his opinion for this program offered by Beltecno. We are looking forward to know his views on what changes he felt, did his expectation meet etc.
To the applicants for "The Global Internship program" at Beltecno
National and international students who are keenly interested to participate in global internship program conducted in Beltecno are warmly welcomed where you can boost up your knowledge and skills in water storage facilities.
The interested students in the The global Internship program at Beltecno, please drop your CV on enquires@beltecnoindia.com and we will get back to you soon for further process.
To know more about what Beltecno is doing for the social cause of assuring clean water to all, please go to this link: