Customer Testimonial – Greenwave Engineering Pvt. Ltd. Contractor for Construction Materials
---
Customer Name: Mr. Vikram Mehra
Associated Industry: Contractor for Construction Materials
Designation: CEO Greenwave Engineering
Purpose of Use: Storage of water
Tank Installed Location: Chennai (Tamil Nadu), India.
Tank Specification: 24KL - 2Nos. & 36KL 1Nos. SS Panel Tank.
In 2013, Greenwave started in Gurgaon as an engineering and contracting company. Their goal is to provide accurate engineering and installation solutions to the clients, earning their trust and loyalty.

They are called 'Greenwave' because they are committed to providing environmentally friendly engineering solutions for projects, starting from the design and procurement phase. They have an experienced team and skilled workforce offers end-to-end solutions for mechanical projects, from concept to commissioning, ensuring top-notch results.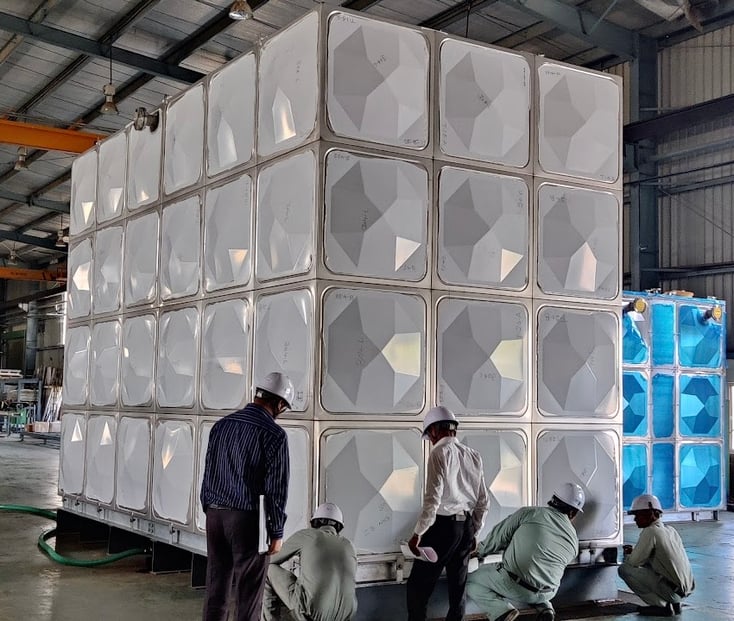 Interview with Mr. Vikram Mehra, CEO, Greenwave Engineering Pvt. Ltd.

Q-
How did you get to know about Beltecno?
A-I had a project in Chennai where we, for the process, required SS tanks. It was a part of my tender project. I personally couldn't find any. I contacted TRP Construction, and Mr. Patak from ProcureRight recommended Beltecno and helped me through the entire selection process and the technical aspects, including the negotiation part with them. And when we got the technical submissions from our client, we saw Beltecno's factory; we visited their factory; we saw the process; we saw the tanks; they were very good quality, which is why we suggested them to our client. And the client agreed. They have also used these tanks in Japan, so we decided to give them the order.
Q-
Why did you choose a stainless steel tank over other materials?
A-That was a tender requirement. The water was RO, RO, and DM water. In that case, it is either you go for a plastic tank or a Stainless steel water storage tank. So, the requirement was a stainless steel water tank from the client side. Because of its long-lasting nature, it does not rust and this was the reason why the client opted for a Stainless steel water storage tank.
Q- How was your experience working with Beltecno? Were they helpful and responsive to your needs?
A- They were actually quite helpful because initially we negotiated a price, and then they were, you know, an additional lot of nozzles in our tank. They incorporated it at the same price. They gave us the design, kept us updated through the entire production process, dispatched everything on time, and we also got on-site support once we required it. Overall, it was a great experience, and I would recommend it. If I have the requirements again, I will definitely go to them.
Q- Would you recommend a stainless steel tank to other businesses in your industry? Why or why not?
A-Yes. If the client requires Stainless steel water storage tanks I would definitely recommend Beltecno Stainless Steel panel tanks.
Q- Are there any additional features or options that you would recommend for a stainless steel tank?
A- I like the diamond design. Diamond design. So, basically, what that does is that you do not need a very thick boundary and reinforcements because a diamond is what reinforces the tank. So, even though there is not much, they actually make the overall tank very competitive with their manufacturers just because of that design and reinforcement.
Q- There are many options available on the market, but why the Beltecno SS panel tank?
A-The stainless steel panel tank is definitely aesthetically pleasing to the eye, and like I said, there was not a big difference in rate. So, if something is more aesthetically pleasing to the eye and meets all the technical specifications
Q- Overall, how satisfied are you with your stainless steel tank, and would you purchase one again in the future?
A- Absolutely, we installed it almost 4 years ago in 2009. We have received no complaints from the client and we are also completely satisfied with the product. I did get a few, I have shared the inquiries with them, if the client closes with me I will definitely close with Beltecno.
Do you want to know if stainless steel panel tank is the right fit for your industry?