Customer Testimonial – Ionic Engineering Technology Pvt. Ltd. Pune, India.
---
Customer Name: Mr. K.V. Raman
Associated Industry: Water treatment plant
Designation: Managing Director
Purpose of Use: Storage of drinking water
Tank Installed Location: JV of Boeing India PVT. Ltd. & TAL manufacturing solutions Nagpur, India.
Tank Specification: Stainless Steel Panel Tank, capacity 20,000L (2x5x2H)
Ionic Engineering Technology PVT. Ltd. is a professionally managed ISO-9001/2008 company by people with over 35 years of hard core experience in water and waste water treatment. Ionic is dedicated to the design, supply, service and maintenance of water and wastewater treatment plant and equipment.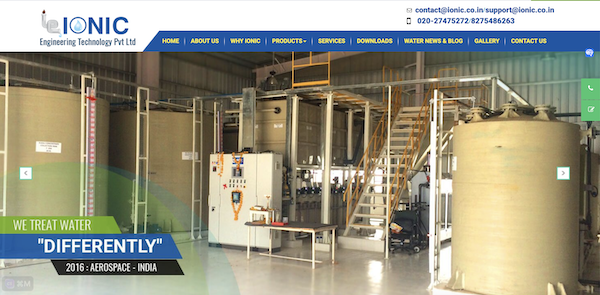 The company was founded and managed by Mr K V Raman, who has about 30 years of experience in water and waste water treatment.
Supply of drinking water SS Panel Tank
It was a wonderful opportunity for us to supply our drinking Water Tank at one of the very prestigious aerospace manufacturing site between the US Major Boeing and TAL manufacturing solutions at their Nagpur project. Our very special thanks to Mr. K.V. Raman who put his efforts into making this happen.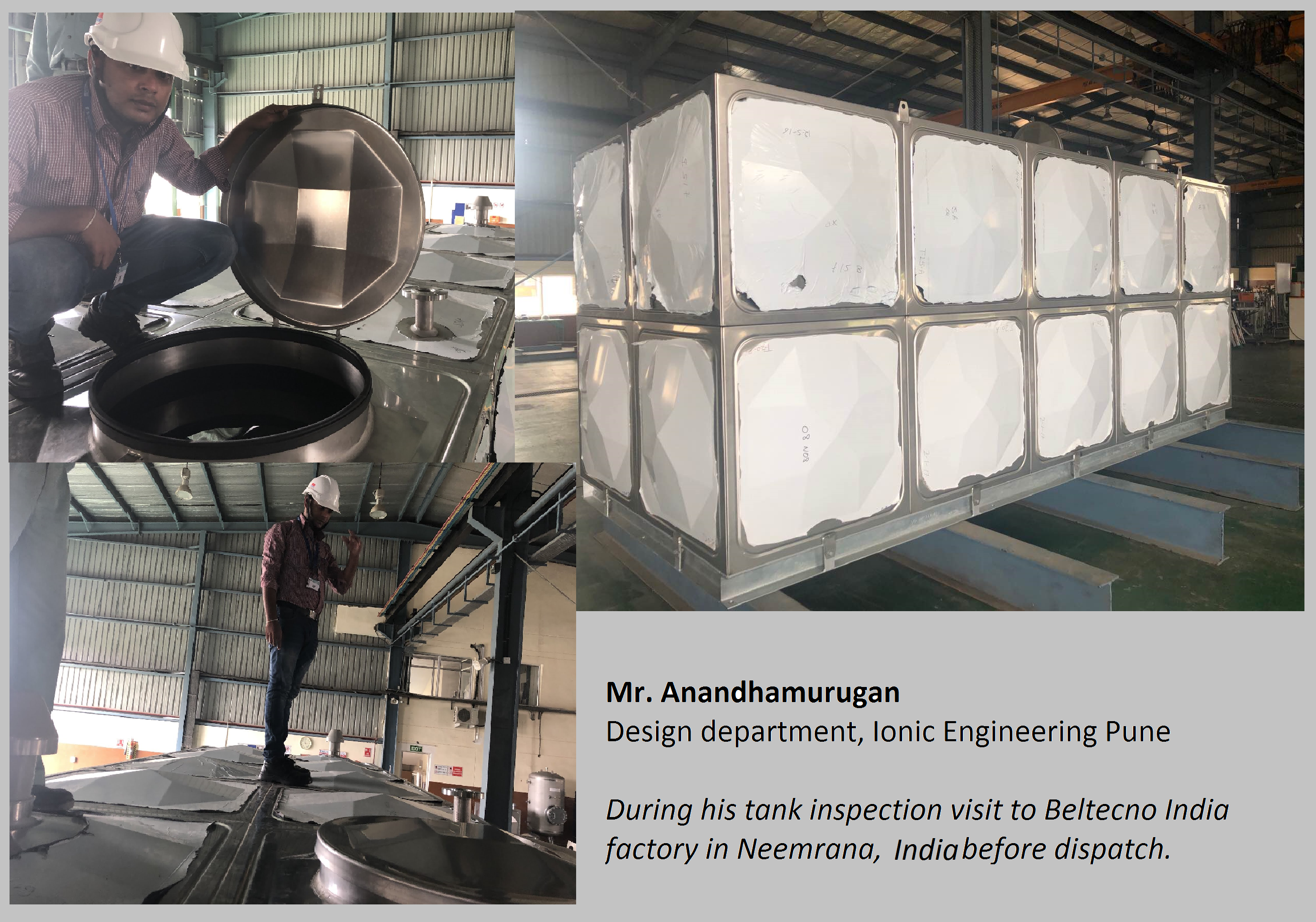 Mr. Anandhamurugan from Ionic Engineering on his inspection visit at Beltecno India.
Application of Tank
The tank is only for drinking water storage purpose.
Interview with Mr. K.V. Raman, Managing Director Ionic Engineering Technology Pvt. Ltd.
Q- What was the main reason for choosing us? How did you get to know about Beltecno's Stainless steel panel tanks?
A- On our last visit to IFAT Mumbai, we first got to know about Beltecno's Panel tanks. Normally, when we think about tanks the first picture comes to mind: a round or cylindrical shape. The tanks which are available in the market have a very thick sheet which increases the weight of structure and also requires a lot of design engineering. Aesthetically, Beltecno's tanks look pleasing and because panel tanks are also available Pre-fabricated, therefore not as much engineering is involved and this makes them easy to install.
Q- Is the tank dispatched as you expected? How much would you rate Beltecno's panel tanks on scale of 10, in terms of Quality, Service, Delivery and Support?
A- The quality is very good. All our staff was satisfied with the tank's finish, although there were a few communication problems due to SEZ regulations but the tank arrived on time as committed to the project site.
Q- Is there any scheduled maintenance plan of our panel tanks?
A- As the tank is not yet installed, we are not sure about the maintenance plan.
Q- What is the exact application of our tank in your whole project and do you recommend other customers also to use our panel tanks to serve this particular requirement?
A-The tank is used as a drinking water storage tank. Yes, if there is a good opportunity, we will defiantly recommend panel tanks to our customers. It does depend on a customer's requirement. If they are quality conscious and can afford a good quality product then yes, we will surely be recommending these tanks.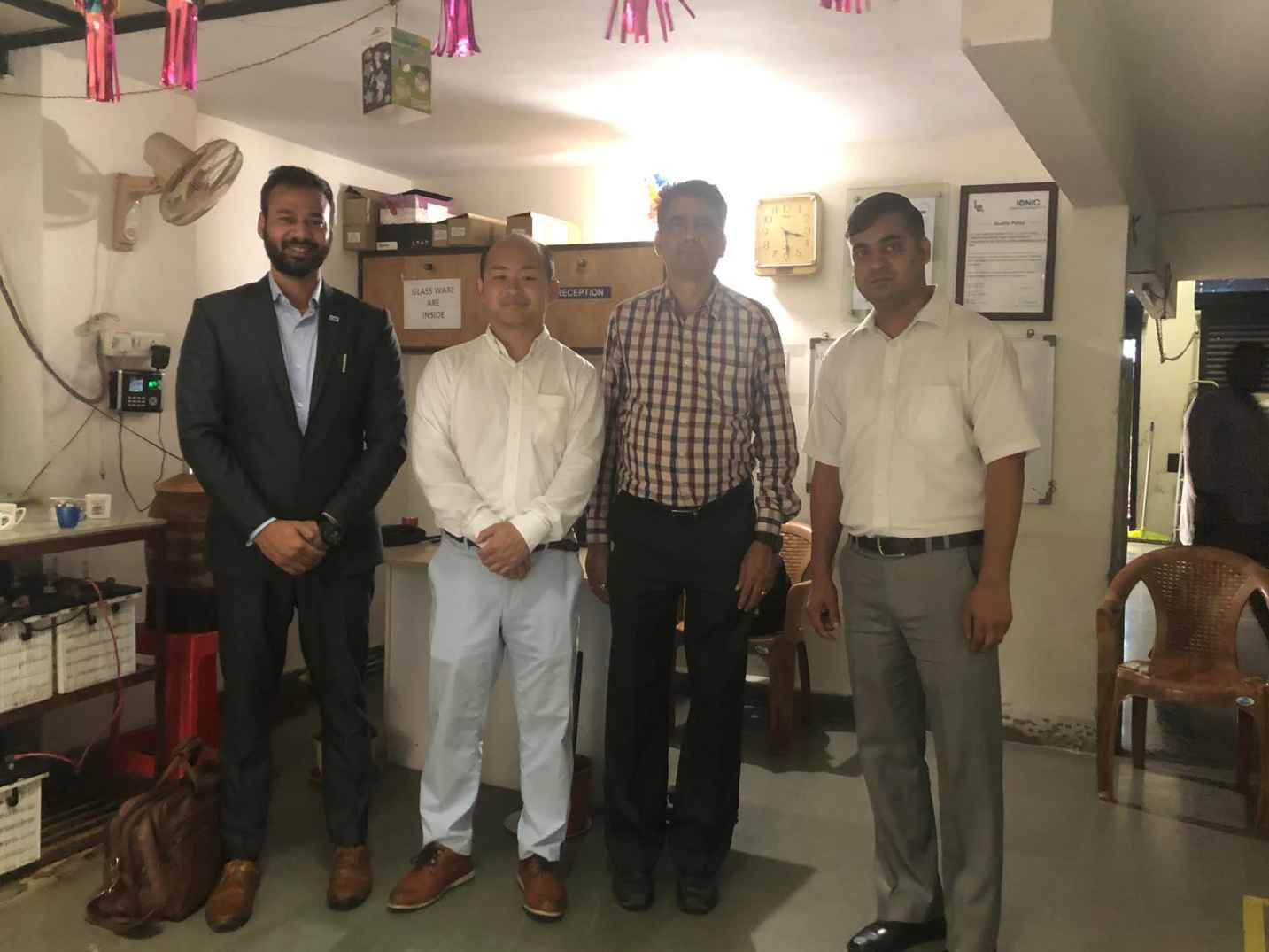 Beltecno Team at Ionic Engineering Pune office
Q- Based on your awareness of SS water tanks, what do you think of Beltecno's panel tank future in India?
A- Panel tank is indeed a very good solution for niche applications. However, not everyone in India is aware of stainless steel water tanks so Beltecno has a very good chance in 20 to 24 KL tank sizes but there could be some difficulty selling smaller size tanks.

Q- Do you have any future plans to use our tanks in your upcoming projects?

A-Not as of now, but yes we will introduce panel tanks in food and beverage applications, as well as in dairy projects where hygiene and built quality are important factors to focus on.
Q- Your valuable input is very important to us. So do you think we could do something better in terms of product development?
A- Coating can be done in case of poor water quality, as duplex and super duplex material grades are quite high cost wise and not every customer can afford this, so some sort of coating can work along with SS304 grade.
Q- Based on your experience what is the major challenge you face, if you install a SS fabricated tank from a local market suppler?
A-As the tank is not yet installed, we will give input on this after installation.


Thank you very much -Beltecno