Customer Testimonial : Ajinomoto Engineering Corporation "BELTECNO delivered their tanks faster than I thought"
---
What are people saying about our products? We would like to introduce a case study.
Company Name: Ajinomoto Engineering Corporation
Case: Pure Water Tank Installation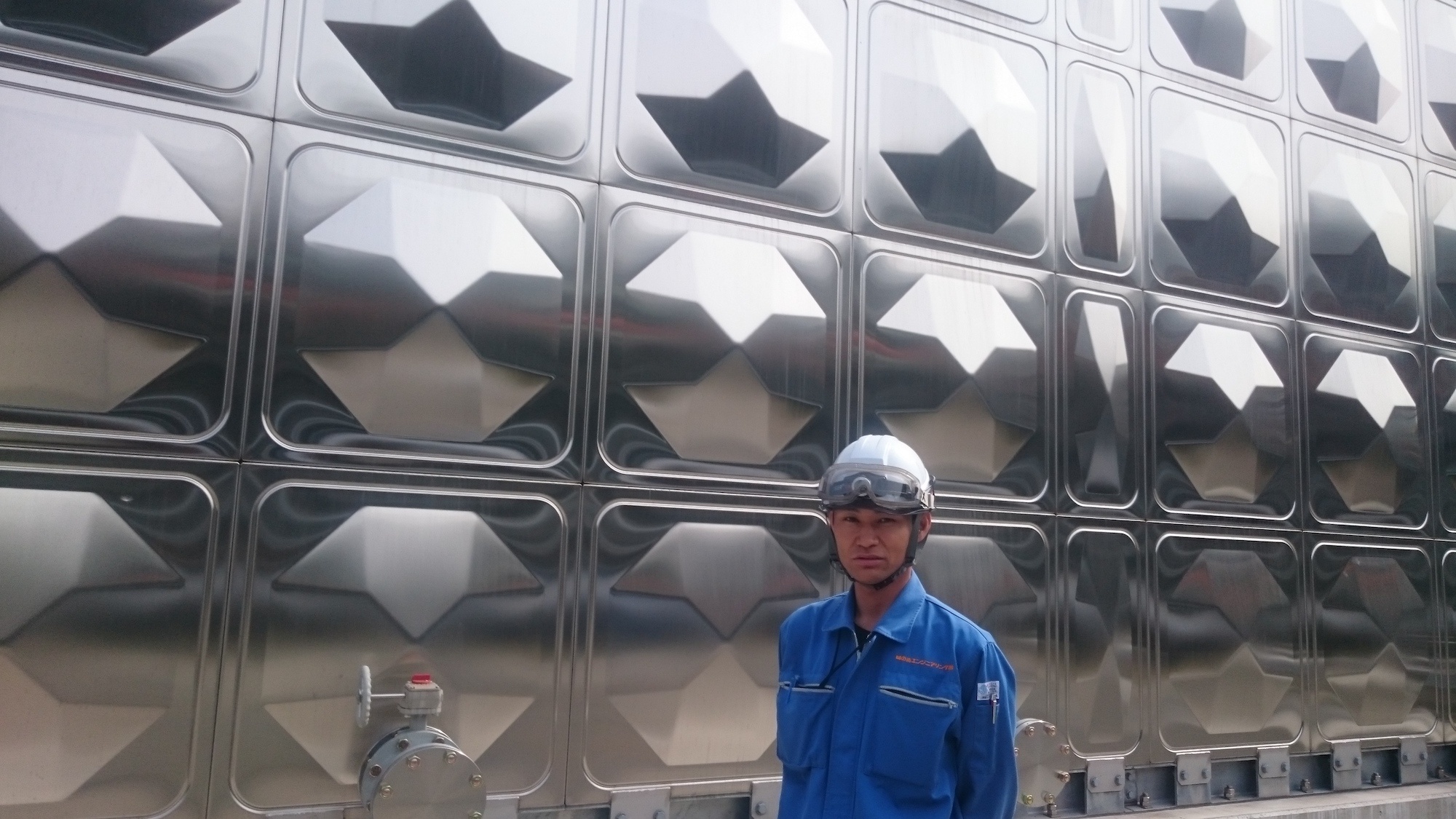 Mr. Yukiyoshi Fujikata, Chief Engineer Engineering Department Ajinomoto Engineering Corporation
Supporting Food Safety and Security from the Aspects of Factory Construction
Ajinomoto Engineering Corporation is a comprehensive engineering services company of the Ajinomoto Group. Ajinomoto Group is a global food manufacturer founded in Japan, with over 100 years of history. The group's mission is "To contribute to the world's food and wellness, and to better lives for the future". It now provides diverse products such as seasonings, processed foods, beverages, pharmaceuticals, amino acids and chemical products, manufactured at 119 factories in 22 countries and regions, sold in 130 countries and regions (as of March 2016).
Ajinomoto Engineering Corporation (AJEC) was founded in 1973. As a member of the Ajinomoto Group, we provide comprehensive engineering services for construction of food factories, ranging from construction to manufacturing equipment, electricity, control and logistics. In recent years, based on our extensive experience and achievements in foods, we also provide optimal engineering services in the pharmaceuticals and fine chemicals industries, etc.
AJEC's customer's pure water tanks were deteriorating, so it was decided that AJEC would install new tanks in 2016 (in Japan). Mr. Yukiyoshi Fujikata, Chief Engineer Engineering Department Ajinomoto Engineering Corporation, was in charge of this project. He said the following about the points to emphasise when installing these tanks.
"They had two old cylindrical vertical tanks: 1000kL and 300kL. For this renewal, we investigated how to provide the volume needed in a way that can be used easily, and decided to install two 400kL stainless steel panel tanks."
Mr. Fujikata says the following about why they chose BELTECNO stainless steel panel tanks among several tank type options: FRP bolted type, stainless steel bolted type, etc.
"With BELTECNO panel tanks, you can use side plates welded beforehand in block shapes by the assembly in the panel tank factory. That way, construction time is shorter than for bolted type with all assembly done on site. This time, we had a deadline for delivery to the customer within 8 months after construction started, so we chose panel tanks that can be delivered quickly."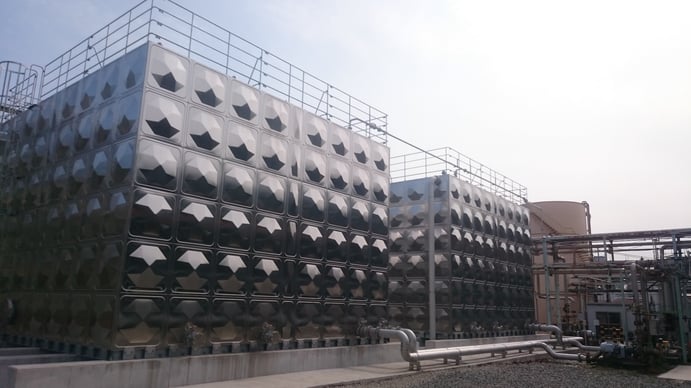 Two BELTECNO stainless steel panel tanks for pure water, installed and operating
They thus decided to use BELTECNO stainless steel panel tanks and began construction in April 2016. They had 8 months until their December delivery to the customer. Excluding time for foundation work, they had only 1 and a half months. Mr. Fujikata could not hide his surprise. "It was completed faster than I thought."
He continued, "I did a leak test by raising the water level at 1 m intervals, to check for water leaks, and when I was able to actually confirm there were no leaks by my own eyes, I was deeply moved."
The tanks were completed, and half a year has passed since they started using them. Mr. Fujikata described the current situation: "We are using these pure water tanks without problems. Even after six months, the tanks keep their shine the same as when installed. We are very satisfied with their quality and appearance."
BELTECNO stainless steel panel tanks will keep serving as indispensable equipment for factories that provide better lives for people.