Basic Design & Working Principles of Beltecno's PHE (Plate Heat Exchanger). Major Points to Remember Before Choosing PHE.
---
Beltecno is a major supplier of plate-type heat exchangers in Japan for a long time. Our PHE (Plate Heat Exchanger) consists of corrugated metal plates with holes to transfer the two heat fluids through. (Can be seen in the below picture where red aero indicates Hot fluid and Blue indicates Cold fluid)
Two pressure plates hold the pressure pack together with tightening bolts. Sealing gaskets sitting at the perimeter of plates, guide the flow of fluid alternatively to each flow channel.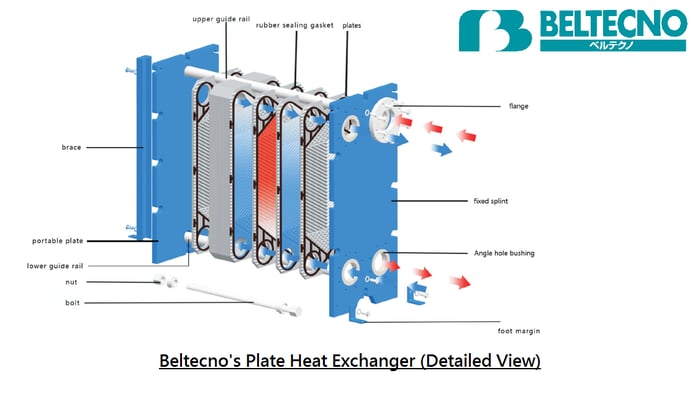 The plate and gasket material, size, quantity, etc. are determined by the medium flow rate, physical properties, pressure drop, and temperature. A different design of corrugated plate structure not only increases the turbulence, but also the support points between the plates which can hold higher pressure.
Choosing the right PHE for your need a few things, that need to be considered very carefully
Selection of connection size – Before selecting the connection size, we always need to consider the velocity in nozzles to make sure as per the velocity, we are choosing the right connection size. (Always seek the recommendation of a technical expert before finalizing)
Diameter of Channel Plate- As per the application, we always need to recheck the diameter of the channel plate but of course, if the application of PHE is in an Oil & Gas refinery where long life is the priority, the diameter of the channel plate always plays a prominent role.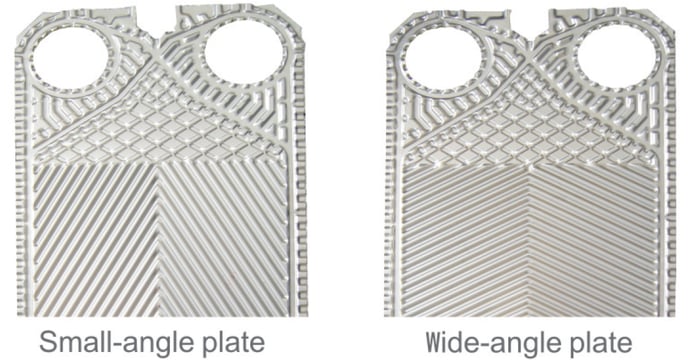 Note- Optimization by mixing corrugated plates can improve heat transfer efficiency, optimizing pressure drop, requiring less heat transfer area which results in lowering the cost and shorter payback time.
Pressure Drop – Pressure drop is a driving force in PHE's, creating turbulence to get a high U Value (Thermal performance is measured in terms of heat loss). In calculation, the pressure drop can dramatically change the Heat Transfer Area required. So before finalizing the design of PHE we need to double-check if the pressure drop could be increased!
Fouling Factor – Fouling factor has become a very old topic of discussion for years. Research in the field of FF (Fouling Factor) has already proved that these values do not always give good results in PHE since they often result in oversized units with pre-mature fouling due to reduced velocity and turbulence.
Heat Recovery- Heat recovery is the main reason to select a plate heat exchanger rather than another type of heat exchanger, such as shell and tube type, etc. LMTD (Logarithmic Mean Temperature difference) = 1 is possible in PHE and counter-current flow is also possible.

Gasket Material selection- trying to find out the gasket material suitable for different fluids is not so easy. This fluid-compatible chart can be referred to, but also we have the following gasket selection table for common applications.

Material

Operating temperature range

Use conditions

NBR Gasket

≤135°C

Resistant mineral, animal, vegetable oil, and other non-polar media

HNBR Gasket

-5°C to 150°C

Resistance to sulphur crude oil, mixed media with H2S, high temperature cooking oil lamp non-polar media.

EPDM Gasket

≤160°C

Heated water, Steam, food beverage, high temperature sterilization of milk.

Solvent EPDM gasket

-20°C to 150°C

Good volume and other polar solvents such as lipid solvents, inorganic acid such as Greek

General fluoro rubber gasket

≤180°C

Non-polar mineral oil, lubricating oil and other fuels containing alcohol

Special fluoro rubber gasket

30°C to 130°C

High concentration of sulphuric acid and other inorganic oxygen acid.

Ref- Panstar heat-Exchange Equipment Co.Ltd.

Plate Material selection –Plate material selection is related to the fluids involved. Stainless steel is a common material with water, but often Chloride level PPM is underestimated.
| | |
| --- | --- |
| Chloride Level (PPM, mg/L) | Suitable Grade |
| <200 | SUS 304 , 304L , 316L |
| 200 – 1000 | SUS 316L, 2205 |
| 1000 – 3600 | 2205, 6% Mo Super austenitic, super duplex |
| >3600 and sea water | 6% Mo Super austenitic, super duplex |
Ref- Giuseppe Tommasone Plate Heat Exchangers Expert for categoryexpert.com
SupplHi - Heat Transfer
Milan, Italy
Advantages of Beltecno's PHE (Plate Heat Exchangers)
High Heat transfer & heat recovery efficiency
The extent of fouling is low and less fluid retention.
Compact structure and low investment, if compared with shell and tube type heat exchanger.
Easy installation and easy maintenance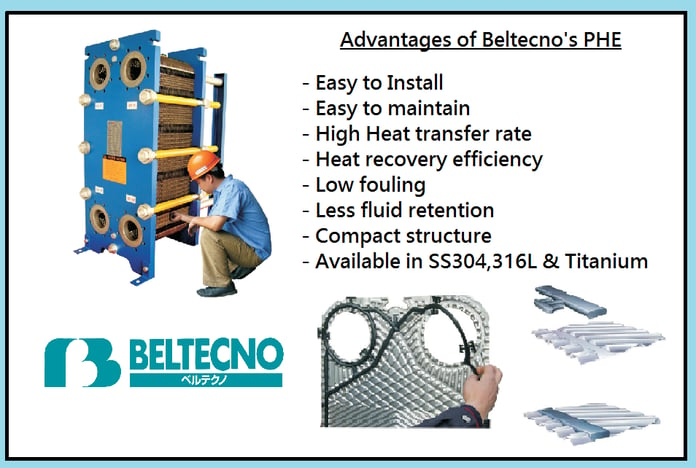 High Flexibility (Load can be increased or decreased up to a certain extent, very easily)
Made from advanced manufacturing practices
Also available in multi-plate type (Low & High-pressure depth type with wide and low angle plates)
Also, check-
To know more about us please go to this link:
If you are interested in our product Please feel free to write us at sales@beltecnoindia.com for more details on PHE you can download our product brochure.