To make relationship between India and Japan better, TITP could be the stepping stone!
---
Japan and India would be able to help each other on various things and "Technical Intern Training Program"i.e. TITP is one of the best ways to help each other.
Today in this blog, I would like to write on TITP. The Technical Intern Training Program for foreigner is one of the hot topics in Japan and the Government of Japan and India have signed the Memorandum of Cooperation in October 2017.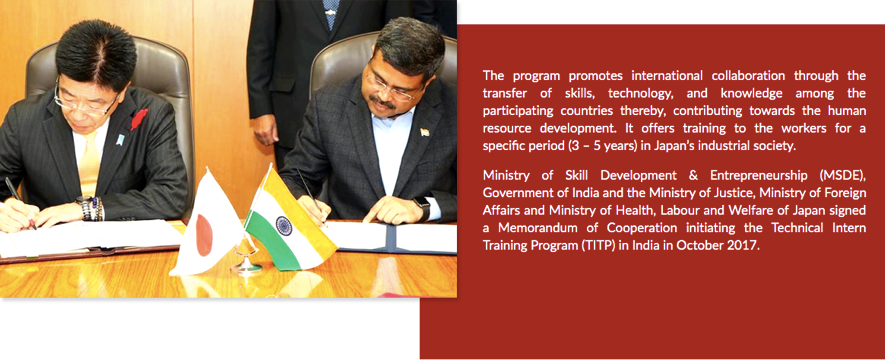 MOC signed by Government of Japan and India
Firstly, I would like to mention the pros of this program for both countries.
For Japan, it can help to supplement manpower shortage as Japan needs so many human resources because there are two big social issues like aging and a declining birth rate. It causes serious short of the young workforce. Then, as a solution to this problem, Japan will be able to get many of the young workforces from India through this project.
India is big in numbers if talk about young working professionals
For India, the situation is totally opposite. India has too many young populations i.e. 50% of the total population is below 25 years and it's too difficult for most of the people to find a good job. Because of this project, many young people from India can be facilitated by good job opportunity and also can develop the professional skills in Japan. If they go to Japan and take great experience like learning Japanese culture and language, taking technical training and so on, they can find a good job much more easily at Japanese company's in India which is extremely increasing day by day. Thus, this opportunity may help to stabilize and raise the living standard higher to the hardworking people. That's totally great and win-win situation for both countries.
Business expansion of Japan in India
Secondly, for those Japanese company, planning to expand their business domain in India could utilize the experienced, skilled human force trained from Japan. As in India, many Japanese companies are struggling with work efficiency and capability development of local employees.
I would like to elaborate on some cases like, the way of thinking/taking for a job. In Japan, most of the employees are loyal to their own company and tends to avoid job changing risk as well not considered as a good practice. So, in Japan most of the employees work for many years and gain lots of skills to contribute to their company during their work tenure. But it's totally different here in India and usually, it's hard to find such practice. Because most of the working people have the tendency to switch the job for better opportunities and career growth and likely to take the risks. So, if they find a new company which provides more financial benefits or facilities, they will switch to it even there are risks.
As a result, Japanese companies in India are facing a high local employee's turnover rate. It's so hard to bring them up to the mark and motivate to contribute to the growth of the company. However, these practices create a problem in work efficiency and trust factor also, but TITP might help to overcome these problems.
Due to TITP, Indian young workers get opportunities to take a lecture on language, culture, lifestyle and moreover learning Japanese work-culture, manners and skills during this training period at Japan. After completion of this program, they will return back to India and can utilize the knowledge, experience, expertise gained, in a Japanese company in India as well can contribute their experience to other local workers. Thus, this TITP could be the best way for skill, knowledge, expertise, technology transfer from Japan to India for long term business sustainability.
Internship at Beltecno
We, "Beltecno"is actively working on this project for not only making our company better but a whole Japanese business or industries better. In the future, the Indian market will be much bigger and most important part of the world's economy. May this project have really great worth for Japanese company.
I had stayed in Thailand and now in India, both the countries are in developing phase and have big potential but Japan, cannot even sustain the current position in the world without expanding its business to the global. I have lived abroad for a year and a half, and I feel really proud of being Japanese and really want this project to be more active and successful. Thus, TITP is a medium to collaborate India and Japan for the mutual benefit and sustainable development in the long run. If I got the opportunity to be the part of this project, I would definitely contribute and be a great challenge and experience for me.
In my next blog I would be explaining my experience being an intern working in Beltecno India Gurgaon office.
For more details about Beltecno's SS Water tanks get in touch with our team at sales@beltecnoindia.com or call at given below numbers +91-9116009580, +91-7300084028, +91 -9549286222