In a building, provision is required to be made for storage of water because of the main following reasons.
To provide against interruptions of the supply caused by repairs/breakdowns to mains, etc.;
To reduce the maximum rate of demand on the mains.
To tide over periods of intermittent supply and
To maintain a storage for the firefighting requirement of the building.
As per the National building code of India it is recommended by the regulatory bodies that the water may be stored in overhead tanks (OHT) and/or underground tanks (UGT)
What materials are recommended for water storage?
Reservoirs and tanks for storage of water shall be constructed of reinforced concrete, brick masonry, Ferro cement, mild steel, stainless steel, plastic or GRP (Glass reinforced panels).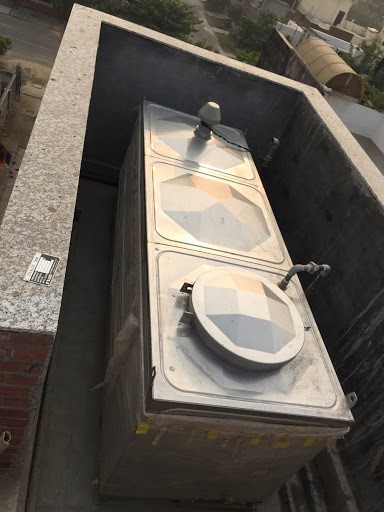 Beltecno's SS Panel tank installed at a residential site in Noida, India.
As per the section-1, part 9 plumbing service section of NBCI, Tanks made of steel may be of welded, riveted or panel/pressed construction. The metal shall be galvanized or coated externally with a good quality anti corrosive weather-resistant paint. Lead based paint shall not be used in tank. Lead-lined tanks shall not be used. Rectangular pressed steel tanks shall conform to good practice (Quality of building material & life cycle assessment of building material).
Construction of water storage Tanks
Each tank shall be provided with the following
Manholes – Adequate number of manholes for access and repair. The manholes shall be made of corrosion resistant material (for example, cast iron, reinforced cement concrete, steel fibre reinforced concreate, galvanized steel, high density polyethylene, fibre glass reinforced plastic or such other materials) acceptable to the authority. Manholes shall be provided with locking arraignment to avoid misuse and tampering.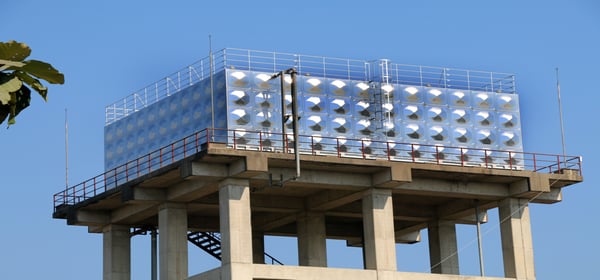 Ladders – Tanks higher than 900 mm deep shall be provided with corrosion resistant ladders according to the depth to enable a person to reach the bottom of the tank.
Overflow pipe – Each tank shall be provided with an overflow pipe terminating above the ground/terrace level to act as a warning pipe to indicate overflow conditions. The size of the overflow pipe shall be adequate to accept the flow. Normally the overflow pipe size shall be one size higher than the inlet pipe. When the inlet pipe diameter is large, two or more overflow pipes of equivalent cross section may be provided.
Vent pipes – Tanks larger than 5000 litre capacity shall be provided with vent pipes to prevent development pressure in the tank which might result in 'No FLOW' condition or inward collapse of the tank.
Connection of overflow and scour pipe – Under no circumstances tank overflow and scour pipe shall be connected to any drain, gully trap or manhole to prevent backflow and contamination of the water. All such connections shall be discharged over a grating with an air gap of 50 mm. All overflow and vent pipes shall be provided with mosquito proof brass grating to prevent ingress of mosquito, vermin and other insects.
Tanks on terraces and above ground shall be supported by appropriate structural members so as to transfer the load of the tank and the water directly on the structural members of the building.
General arraignments and important points to remember when installing the tank.
Every tank shall be easily accessible and placed in such a position as to enable through inspection and cleaning to be carried out.
The outlet pipe shall be fixed 50 mm to 75 mm above the bottom of the tank and fitted with a strainer, preferably of brass.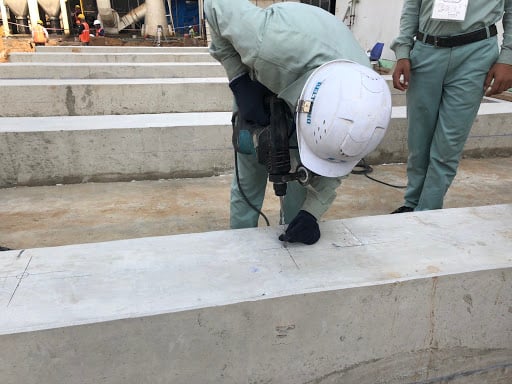 In case of overhead tanks, bottom of the tanks shall be placed clear off the terrace slab such that the elevation difference between the outlet pipe of the tank and the highest fixture at the top floor of the building is minimum 2m, which shall also prevent leakage into the structural slab.
For jointing steel pipe to a storage tank, the end of the pipe shall be screwed, passed through a hole in the tank and secured by back-nuts, both inside and outside.
For jointing copper pipe to steel or copper tank a connector of non-ferrous material shall be used.
For more information download our company brochure.

Check our blogs