Beltecno India participated in IFAT at Bombay exhibition center in Mumbai this year. The exhibition was regarding water, Sewage, Solid waste and recycling. We joined under the water supply segment in this exhibition. There were a lot of companies concerning water from various country like India, Japan, Korea, Germany, China and so on.
Our purpose to participate in IFAT
We participated in IFAT to let people know about stainless steel panel tanks more. i.e. quality, technology, etc.
Our Diamond Tanks are quite new to Indian market and from Japan we brought this technology. We need to let people aware about our tanks at first, for that we are putting over maximum effort by showcasing the tanks in such exhibitions.
In my opinion, make 0 to 1 is the hardest thing in all of phase to achieve something and we are working on it. This is one of our practices to make it happen. For us, IFAT was a good opportunity to make our purpose come true.
How was IFAT?
As I mentioned, a lot of companies joined IFAT from various countries. I think I can say it was quite global event. And also there were so many customers who were interested in about latest technology of water segment.
So far, in India, there are so many serious problems about water which already gained a lot of attention of so many stakeholders from water industry. it's necessary to keep growing from now on because problems about water is getting much more serious. I felt that the event is so valuable for bright future of India.
What we got from IFAT?
In IFAT, we interacted with a lot of people who were interested in knowing the new water technology. In meantime, we also got much knowledge and opinion from prospects and visitors. Our main purpose was to let people know about our tanks as much as possible and many people were impressed by our product's quality.
It was great for us to hear opinions about water from people who are dealing with problems on day to day basis. I think joining IFAT was a great for all of us to remind our problems which we need to deal with.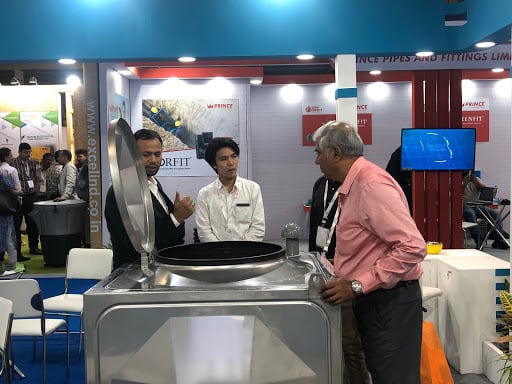 (When Mr.Ankur Verma and I introduced our product to visitors of our booth in IFAT)
Our next step
We have done so many things to let people know about our stainless steel panel tanks because we strongly believe that our water storage tanks t can contribute to solve problem of water in India, even a whole world.
Our goal is to bring safe water for all people all over the world. To reach our goal, we will keep working.
For More information on our product download our product brochure.