Customer Feedback on Beltecno Stainless Steel Panel Tank
---
Customer Name: Mr. Abhinav Singh
Associated industry: IT Company
Designation: MD
Tank Installed location: Sector- 105, Noida, UP (Residential Purpose)
Tank Specification: Stainless Steel Panel Tank, capacity 3000L (1x3x1)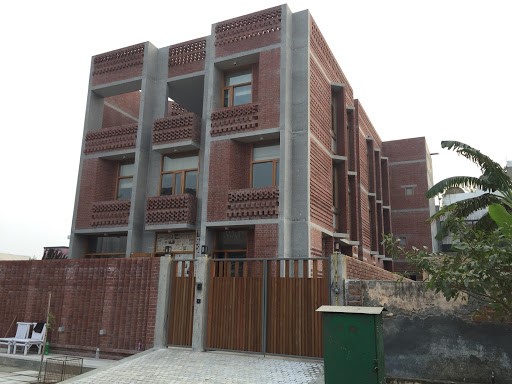 F.g Residence of Mr. Abhinav Singh where Beltecno's SS tank has been installed
Mr. Abhinav Singh displayed the installed tank at the location and also explained the entire water supply process. He exhibited the lifting of the tank to the rooftop installed at the location.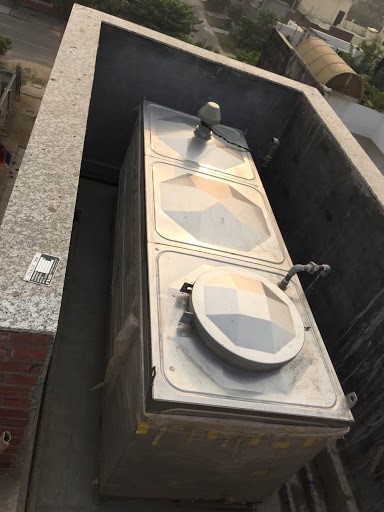 F.g Beltecno Stainless Steel Panel Tank
Usage purpose:
Installed a complete system including RO (Reverse Osmosis operation) and a central water heating system for usage.
Firstly, municipal corporation water is stored in the concrete tank and the water goes through the RO system and stored in a Beltecno's SS water tank. Then from the Beltecno's tank, water delivers into desired areas of the house.
RO water stored in SS tank is also being supplied to a central water heating system to support hot water needs of the customer.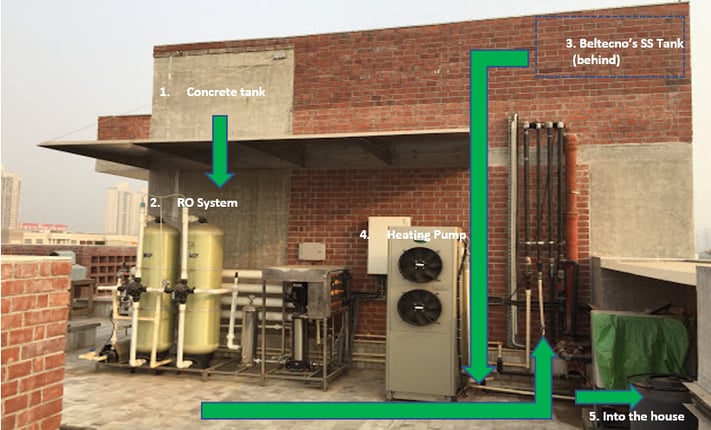 F.g Water purification system from where RO water is stored at Beltecno SS Tank
Why& How Beltecno Product:
'For my residential usage, I was searching for a SS water tank and visited a few SS tank manufacturers in Noida and Delhi but was not satisfied with the product quality and their processing and manufacturing. Most of the tanks were either round or circularly shaped and there wasn't any proper technology used for making the tanks. Welding was also not up to the mark and finishing was poor. Round tanks were heavy in weight, as they were using thick sheets for making the tank. I was not satisfied with their tank making style and their response to such.
I searched for the SS tank manufacturers on the Internet and found Beltecno where they manufactured tanks, using Japanese technology. Afterwards, I approached Beltecno and discussed with Mr. Arjun from the Sales Department and gathered all the information about SS tanks. Also, I went to visit the Beltecno Factory at Neemrana, the Japanese Zone. I saw the tank-making procedure and the machines they were using were very impressive and ideal. One of the Japanese technical heads explained about the machines, the welding technology and SS tank assembly procedures. I was very much impressed and liked the tank and technology they were using for making this.
My requirements were all fulfilled with the tank being very much lighter but highly resistible to earth quakes. The strength of tank is very good and the design was perfect. Their customer service was a renowned one as they answered all my queries with a complete explanation about each and every process.'
We have conducted a small customer feedback questioner below:
Q- Why have you chosen Beltecno Tank?
A- I was searching for a stainless-steel tank for residential purposes and visited a few local SS tank manufacturing companies but didn't like their product: its quality, the finishing and the technology employed to make the tank. On the other hand, this Japanese product has very good quality and finishing, with high reliability regarding the product and service. Having bought three Japanese cars, I was well aware of their reliable service to the customer which is perfect, as well as the quality and its reliability. I found the Beltecno SS tank manufacturers and finished my search, deciding then to visit the manufacturing plant with Arjun from the Sales Department. I was very much impressed with the factory set-up, working procedures and technology used. If anybody visit the plant, they would definitely like the product and would buy it, "No doubt about that!"
Q- Are you satisfied after buying Beltecno Tank?
A- Very much satisfied and it was my best decision to buy a Beltecno tank.
Q- What is your opinion about water quality in India?
A- Water quality is very bad and varies according to the location. Therefore, it is our responsibility to install a proper water purification system. As a result, I have installed the proper RO system to purify the water for residential usage.
Q- Is the price for a Beltecno tank much higher compared to other manufacturers? What do you think?
A- It is obvious that the price cannot be compared to another company's. I know the quality that Beltecno offers and as per quality, the price is justified.
Q- We would like to spread the stainless-steel tank in India, what do you think?
A- Yes, that can be done, but you have to approach those people or companies who are well aware of stainless steel tanks and their advantages. Those who have knowledge of SS tanks will definitely understand the price for these, as well. South India, especially, would be the right place to approach customers as their awareness level is much better compared to North India where people are price conscious and the awareness level is not good. Better to approach the Designer and Architecture Companies. They will be key persons to recommend your product to any premium projects or plants. As you are manufacturing the perfect tank with Beautiful Design, spreading your web presence could prove more effective.
Q- After using Beltecno tank would you recommend it to other people?
A- Definitely, and I have already introduced it to my Architecture Company. They liked the Beltecno tank very much and would like to buy a similar tank from Beltecno. I also have associates in some schools and in offices and would definitely encourage them to buy the Beltecno tank, asking them to recommend the product to other people who are looking for a water storage tank.
Q- Any comments of Tank delivery date?
A- Obviously, to make a good product a certain time is required but you have delivered this one before the deadline.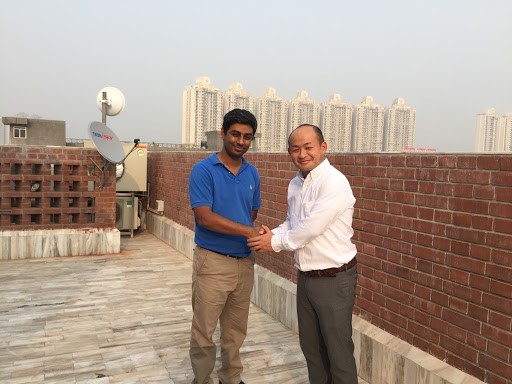 F.g Mr. Abhinav Singh and Mr. Kiyokazu Tamura from Beltecno India (MD)
Special thanks to Mr. Abhinav Singh for his valuable time and feedback on Beltecno Stainless Steel Panel Tank. We will be looking forward to having more business in the coming future.
Thank you very much.
-Beltecno
For more Details on Our Product click here
Check our blogs
Subscribe to our channel