IFAT India is one of the most prestigious trade shows in the field of Environment technologies and this time its special emphasis on water, sewage, refuse and recycling technologies. Around 150 exhibitors are participating from all over the world.

Beltecno is introducing SS Diamond Tanks in India
India is one the fastest developing nations in the world and BELTECNO a 70-year-old Japanese Multinational, well renowned for their SS diamond panel tanks globally supporting India in providing hygienic water storage solution for all people.

We have setup our Manufacturing plant in Neemrana Japanese Zone Rajasthan with the advanced technology & high tech machineries to cater the need of any capacity of tank starting from 1KL or 1000 Ltr.
We cordly invite you all to be part of this change and visit us at Mumbai in the coming week.
For More details on products check our product range
Visitors are requested to check more details here
http://www.ifat-india.com/uploads/2017/visitor-information.pdf
Key Dates and Details at glance
Date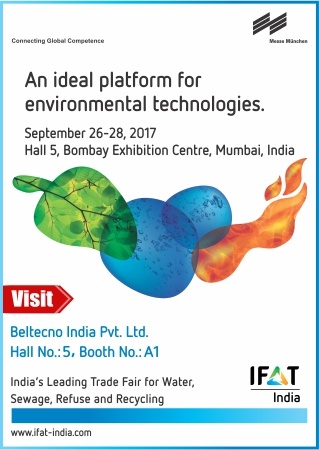 September 26 – 28, 2017
Venue
Booth No. A1, Hall 5
Bombay Exhibition Centre (BEC)
Goregaon (E), Mumbai, India.
Opening hours
Tuesday to Wednesday 10:00 AM to 6:00 PM
Thursday 10:00 AM to 5:00 PM
Register now at
Kindly download our brochure from here
Subscribe to our Youtube channel
Check our previous blogs