Indian Water Supply Guidelines – Part 3
---
In our last blog (Indian Water Supply Guideline – Part 1 & Indian Water Supply Guideline – Part 2) of this series we discussed about the water supply for residential properties and as well as buildings other than residences which clearly mention the importance of water in our day to day life and a useful guideline for architects and consultants, who plays a major role in designing a home or a commercial building.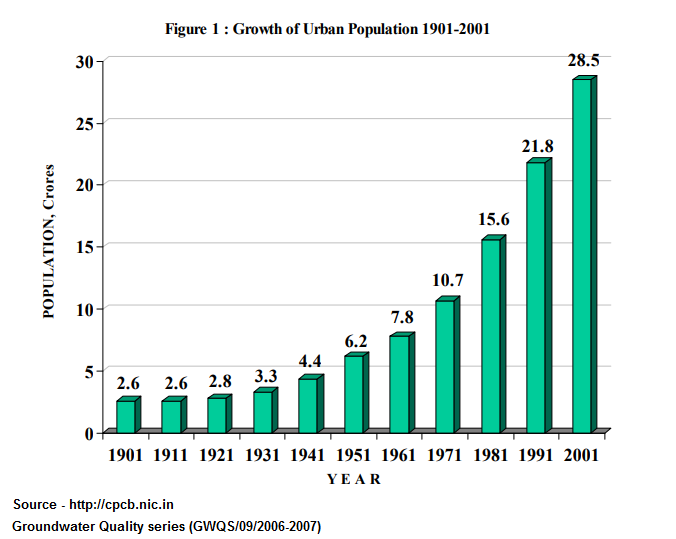 In today's blog our focus would be on water sources and quality. Due to increase in urban population (Refer the above graph) in last few decades' groundwater quality has become very poor, contaminated and even toxic at few places. So it is very important to understand the source of water as well as its quality and suggestions.
Source of water
The origin of all sources of water is rainfall, and it recommended that water can be collected as it falls as rain before it reaches the ground. So rainwater harvesting is a wonderful solution, being a stainless steel tank manufacturing company in India, we noticed good growth in rainwater harvesting tank enquiries.
Quality of water
Contamination of water supplies can occur in the source water as well as in the distribution system after water treatment has already occurred. There are many sources of water contamination including naturally occurring chemicals and minerals (for example, arsenic, radon, uranium), local land use practices (fertilizers, pesticides, concentrated animal feeding operations), manufacturing processes, and sewer overflow or waste water releases. The presence of contaminants in water can lead to adverse health problems including gastrointestinal illness, reproductive issues and neurological disorders.

Gurgaon's Ground water quality getting worse every year
Source - https://timesofindia.indiatimes.com/city/gurgaon/gurgaons-groundwater-quality-worsening-every-year/articleshow/64471112.cms
Suggestions
As per the NBCI guideline, water supplied shall be free from pathogenic organisms, clear, free from undesirable taste and odour, neither corrosive nor scale forming and free from minerals which could produce undesirable physiological effects. For purposes other than drinking water if supplied separately, shall be absolutely safe from bacteriological contamination so as to ensure that there is no danger to health of the users due to such contaminants.
Being one of the oldest companies for manufacturing stainless steel tanks Beltecno is on a mission to make Indian water storage more hygienic for all, same as in Japan.
In our next blog we will discuss why water treatment is important? And what are their types.
For more information download our company brochure.
Check our blogs