Why BELTECNO Stainless Steel Tanks?!
---
Comparing

Beltecno

Stainless Steel Tanks with Others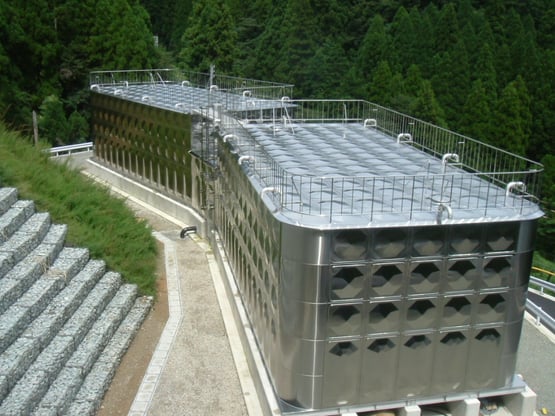 BELTECNO is the top and prominent stainless steel tank manufacturing company in Japan and in India with the globally advanced technologies in this field. Our commitment is to improve the quality of lives of the people all over the globe. We have focused on solving the water-related problems, worldwide, as well as contribute to creating an oasis on earth. We are serving our products in Japan since 1968 and in India since December 2015.
Before explaining on why BELTECNO Stainless Steel Tanks, I would like to highlight on stainless steel as a material which poses characteristics such as strength, toughness, durability, ductility and weldability. Other most important features are its hygienic nature, i.e. the food grade material and long run value.
The application of our products is to store various liquids, basically water. The general awareness of public regarding water hygiene is limited to where its source is. We tend to take it for a granted that the storage is also very important, in terms of our health and hygiene. Most of the practices for storing water include concrete tank and plastic tanks. These storage systems lack long-term resistance to viral contamination. The level of purity is not set on a regular basis.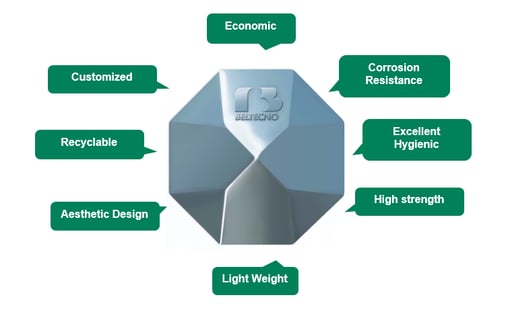 The stainless steel products are popular from households equipment to industrial applications, because of the features and advantages as the above diagram suggests.
As Beltecno mission is to supply the clean and hygienic water, a most important element in people's lives. Thus Beltecno is serving the stainless steel tanks, having following advantages.
Excellent in hygiene and durability
Lightweight and quick to install
Economic and recyclable
Quake resistance
Corrosion resistance
Moreover, Beltecno uses the most advantage technology in welding and the tanks can be customized from thousand to billions liters capacities.
Herein, I would like to compare the BELTECNO stainless steel tanks with two popular water storage system i.e. concrete and Fibreglass Reinforcement Plastic (FRP) tanks.
Concrete Tanks
The concrete tank is one of the conventional water storage system being installed in most of the public water storage system in Department of Water Supply, especially in developing countries. Large capacity overhead tanks are being installed in many places, from where water get supplied to villages and cities.
The installation of concrete tanks take very long duration, might be more than half a year. Once concrete tanks are installed much maintenance needs to be carried out at a certain interval of time. Cracking is a major problem that causes leakage of water. Once leakage started on the tank, frequent maintenance work is needed, finally, the overall cost rises. If we assume the life of the concrete tank is above 50 years, the maintenance cost exceeds the cost of installation, eventually, the total cost becomes high. If overhead tanks need to be installed, the civil foundation should be designed according to its weight. The civil foundation that can sustain the overall weight i.e. weight of tank its self and water stored on it, again total cost become high.
Some important questions get raised, whether water stored in this tank is hygienic or not? Is there any standard set to measure the degree of purity in water? Is water germ-free? Usually, we won't be able to answer if these types of question outstretched, even we know, we neglect these issues. Consequently, many people suffer from water-borne diseases. Only focus is on water supply problem not in the quality of water supply.
FRP Tanks
FRP tanks are the upgraded form of plastic tanks and combination of various materials like mortar, concrete, ceramic composite etc. It is also called Glass Reinforced Plastic. These type of tanks are stronger than normal plastic tanks and better in use. In various industry, we can see these FRP tanks used to store water. It is the temporary water storage system and economic. The various research has shown that there is the height constraint. If the installation space is limited, we cannot exceed the height by 4 meters, means there should be enough space to install. The other important problem is on its strength as bolting work is done to join the panels so, a minor quake can also damage the tank or in bolting points, starts in leakage. Once Leakage starts, frequent maintenance work should be done, which may disturb in the water supply.
I would like to share one example of FRP tank. I saw the FRP tank capacity of 480 KL, installed for the public water supply of Department of Water Supply in Nepal. After few years the bolting and leakage problem has seen.
According to the water supply department staff "we have faced much trouble in maintenance work, frequent repairs have to be done". Due to the destructive earthquake occurred before two years in Nepal, the tank got damaged.
Even though the installation place was very far from the epicenter of the earthquake, the destruction of tank created the stoppage in water supply and many people faced the problem. Finally, after replacing by Stainless Steel Panel Tank water supply problem has been sort-out. Now, every people in that area are accessing clean and hygienic water.
The conclusion is that, if Department of Water Supply have initially decided to install stainless steel tank instead of FRP tank, might not have to face those problems almost for one and half years. Also, it might have saved the replacement cost and people might not suffer from water supply problem.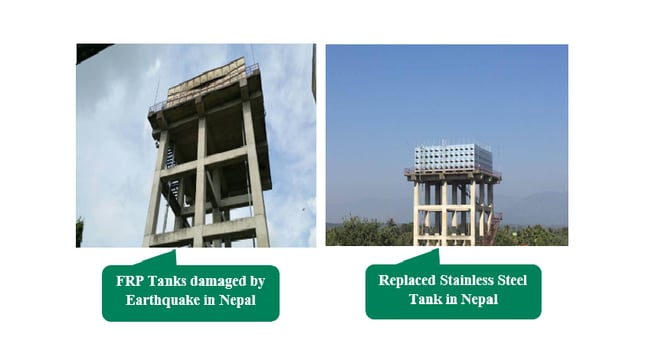 Nevertheless, we again think of the initial cost of the tank and decide to use either concrete tank or other economic tanks. We are price conscious and give priority to cost rather than the people's health.
The era has come to change these types of the storage system to the upgraded systems which can assure the quality of water, store water hygienically and free from water contamination issues. Beltecno has become the first choice in Japan for stainless steel tanks and we are making the same brand value in India and in the globe.
Hence, the above-mentioned reasons would be suitable to justify the statement Why BELTECNO stainless steel tanks?
For any query related to the Beltecno stainless steel tank, please feel free to contact us at a.pokhrel@beltecnoindia.com